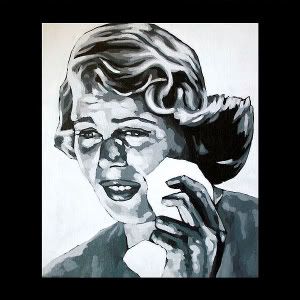 Release Date: March 9th, 2010
Label: Hydra Head Records
Website: www.wearedaughters.com
MySpace: www.myspace.com/daughters1
Rating:


What a big beautiful epitaph this turned out to be. Daughters' latest self titled release could well be their last if rumours are to be believed. Crashing home in just under 30 minutes it's an explosive mix of oppressive, crunchy noise, desperate vocals and screeching, wailing guitars that sound like decayed ruins fired up with fresh electric.
Under the thick foggy overcoat of howling chaos lies song fragments pounded to dust and repurposed for the roaring cacophony overhead. Tracks such as 'The First Supper', 'The Hit' and 'Our Queens (One Is Many, Many Are One)' offer up the smallest glimpse of a hook as bait only to wrap their claws around your midst, dragging you down into the depths of their screaming melee below or ripping you to shreds in the process. Elsewhere, 'The Theatre Goer' tears through it's initial birthing into a violent frenzy of falling masonry, and cinemas collapsing in flames. The droning implosion of 'The Dead Singer' sounds like a ket laced knife fight in slow-mo and ends in a pool of blood and tinnitus. The album in it's entirety is a delicious slab of murderous fury and strangely danceable intensity that splutters it's wares out like a death-knell disco in the midst of the apocalypse.
This isn't easy listening. It's savage, bloody and brilliant. If you've ever wondered what The Blood Brothers would sound like whilst being minced with broken glass and a Converge vinyl, this is the album for you.
Written by Greg Johnson