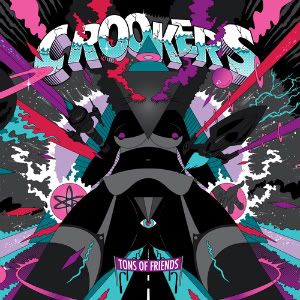 Release Date: March 8th, 2010
Label: Southern Fried Records
Website: www.crookers.net
MySpace: www.myspace.com/crookers
Rating:

They are Crookers, and they love animals. So proclaims the opener of their debut album, the appropriately titled 'We Love Animals', and what follows is a sprawling recording spanning a further nineteen tracks, with the Italian duo making full use of, well, tons of their friends. Twenty six of them I believe. They are perhaps most famous for their expansive catalogue of remixes of hit singles ('Salmon Dance', 'The Way I Are', 'Day 'N' Nite' and even bizarrely 'Thunderstruck'), but now have released a first record of their own. And this debut album is as curious as often as it is frustrating.
One of the most intriguing parts of the album, is just the diversity of the music on offer, a feature that captivates you whether you're fully enjoying it all or not. It deviates from straightforward electro ('We Love Animals') to fidget house ('Have Mercy'), and then from almost electro-polka ('Cooler Couleur') to dubstep ('No Security') and even dancehall ('Arena') to more simple electro-pop ('Remedy'). While you'll never get bored, you never get truly comfortable either, a problem nearly remedied, so to speak, by the clever tracklisting, which starts with a more party vibe and descends into a darker one.
Despite the large variety of genres on offer some of the tracks are clear filler, while others are clear stand-outs, such as opener 'We Love Animals' and the Miike Snow featuring single 'Remedy'. Truth be told, there are some great songs on this album and many of them come in the form of some of the odder moments, such as the bluesy 'Lone White Wolf' which discusses eating children (from a wolf's perspective, before you have a morality crisis) and the Kid Cudi sung 'Embrace The Martian'.
The other main flaw with this album is the way Crookers use some of their tons of friends. For instance alt-rap supremo Spank Rock, rather than being allowed to let go on an uptempo number about banging sluts or other such frivolity, is instead relegated to two minute almost interlude track 'Park The Truck'. And the Black Eyed Pea will.i.am is kind of wasted on the one dimensional 'Let's Get Beezy', when he could be better suited to providing an extra dose of energy to one of Crookers' many club tunes. I will concede though, that the way they use some of their female vocal talent is pretty inspirde; Kelis in particular shines on the twitchy single 'No Security'. Roisin Murphy also makes the trancey 'Royal T' one of the best songs on the album.
Overall, this is an electro oddyssey and in many places a great album for a party. For the casual listener though, this is over long and has filler in one too many places for it to be a truly great record. When it's good though, it is really good and Crookers have at first attempt, provided an intriguing listen that is fantastic in short doses; if you're taking the correct dosage that is.
Written by Paul Smith