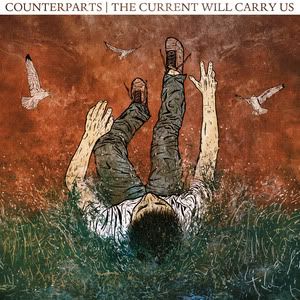 Release Date: October 25th, 2011
Label: Victory Records
Website: www.counterpartshc.com
MySpace: www.myspace.com/counterparts
Rating:


Canadian hardcore band Counterparts are probably one of the most distinctive and unique bands in the contemporary heavy music scene, and they are one of the most promising up-and-coming bands in hardcore music right now. However, with a lot of hype surrounding the release of the second full-length album following the success of 'Prophets' and their recent split EP with Exalt, the band had to tread the tightrope carefully here.
'The Current Will Carry Us' is all in all a much heavier album. Brendan Murphy's distinctive vocals are tighter than ever in a much matured and well-travelled band, and all the gig time appears to have paid off, as the outstanding ability displayed in 'Prophets' has been nurtured and developed, and eventually released into eleven tracks of complete chaos – but chaos as perfect as you will hear in a long time. Jesse Doreen and Alex Re completely command the string section of this band, with riffs reminiscent of early Black Sabbath, but bashed into this hardcore song. However, there are some lighter, catchier riffs too, especially displayed in 'Pedestal', yet even this delves into a dark crescendo. Ryan Juntilla absolutely kills the drums on 'The Disconnect' and 'Jumping Ship', complimented by Eric Bazinet on bass, for what is probably the stand out track of the album. Counterparts at their finest.
This is a very consistently strong album from a consistently strong band. Intro 'I Am No One' and 'MMVII' are two tracks of simple raw emotion, fused with incredible ability and Bazinet's droning ambience on the latter shows the versatility in the use of bass guitar, something which so often gets lost in heavier music. 'Reflection' is different to anything else you will hear on this album and arguably anything you have previously heard from Counterparts, and as much as this track seems slightly disjointed from the rest of the album, you'd be hard pushed to hold that against the band.
Counterparts haven't changed completely, the raw core of the band is still very much there, the sound is just ever so slightly developed; they sound sharper, both instrumentally and vocally, and the production values are very crisp. The breakdowns aren't as frequent but are definitely far more effective than on 'Prophets'. This is an album which any veteran hardcore band should be proud of, let alone one who only released their debut album a little over a year and a half ago. They've done a lot in such a short space of time, and in 'The Current Will Carry Us' it shows. This album is a dead cert to maintain Counterparts' reputation as one of the most promising hardcore bands on the planet.
Written by Gary Cassidy