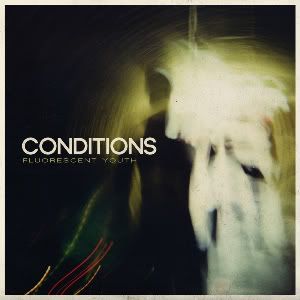 Release Date: September 13th, 2010
Label: Good Fight Music
Website: None available
MySpace: www.myspace.com/conditionsband
Rating:

Rehashing and recycling has been an all too common theme in most alternative rock/metal/punk subgenres and scenes lately, delivering us with far too many watered down imitators and copycats being washed onto our shore. With a slight punk tinge to their poppy post-hardcore formula, combined with their above average musicianship and hard to find sincerity makes for a great debut from Conditions.
'Fluorescent Youth' isn't you're complete run of the mill replica of the band preceeding or following them, but is definitely something a hell lot more refreshing and enjoyable. Following two moderately successful EPs playing safe is where bands can either falter or flourish, and the latter is the path Conditions are walking upon.
Domineering and forceful opener 'The End Of Progression' delves you straight into a ride of talent, sincerity, and Saosin-esque pos-hardcoreness which sets them aside from the ever-growing terrible crop of recycled trash that's now all too common. 'Make Them Remember' and 'Keep Pace With Planes' are both fast and turbulent tracks with a flare to tug heartstrings as much as they are to keep your body moving to their rhythm and pulse.
Being lyrically more indepth is what's going to help set them apart from the others, lines like "When you play it safe, you end progression" and "When the world seems to go wrong / The day that you feel like you don't belong / Keep in mind life's just a song / A song without words, waiting for you to sing along" helps to show frontman Brandon Roundtree as a wise man with his heart on his sleeve. His vocal range and capabilities are also far more on show here than with their previous EPs, allowing a look into his progression and potential over the few years between releases.
Conditions aren't generating some "brand new hot shit" but at least they're creating some honest and genuine music that means something. Music shouldn't be a business, but a means of escape, a message and a connection. 'Fluorescent Youth' is proof that Conditions get and excercise this.
Written by Zach Redrup
Founder & Editor for DEAD PRESS!