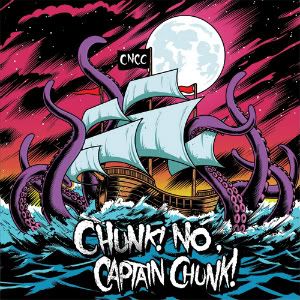 Release Date: July 19th, 2011
Label: Fearless Records
Website: None available
MySpace: www.myspace.com/chunknocaptainchunk
Rating:


In 2010, Parisian pop-punkers Chunk! No, Captain Chunk! brought out their debut, 'Something For Nothing'. They gained a modest troupe of fans with it, but now after being signed by Fearless Records, they are surely going to take off. Playing catchy pop-punk melodies weaved together with crunching breakdowns, they don't play particularly complex music, but they do it well. There's definitely a Four Year Strong 'Rise Or Die Trying'-era sound about it, with the key difference that they play in a much lower tuning (drop B), which for a band of their genre gives them a slightly heavier edge whilst still maintaining the fun feel of pop-punk. It's quite like Curious George, only with chainsaws and tequila.
The setlist has been rejigged slightly from the 2010 release with the notable inclusion of bonus track 'Make Them Believe', one of the heavier songs that fits in perfectly mid-album. Absentees include 'Alex Kidd In Miracle World', an interlude of sorts that didn't really add much to the album, and 'MILF', which was probably left out because of the excellent lyrics "I love your nipples / In spite of wrinkles". This lost-in-translation thing actually adds to the overall fun feel of the album, being that English is not actually Chunk!'s first language.
There's plenty of feel good anthems here; 'In Friends We Trust' had a video filmed and a quick view of it will show you that Chunk! are in fact the HAPPIEST PEOPLE IN THE WORLD. It transfers to the aural experience as you know they're enjoying what they're doing just as much as the crowd. 'Captain Blood' was offered up for free download and is one of, if not the best track here with a sumptuous breakdown mid-song further exemplifying Chunk!'s diversity to the metal scene as much as the punk one. 'Sink Or Swim (S.O.S.)' is a rather synth heavy track, which if you like that sort of thing definitely works well. The arrogant keyboards even dip into happy hardcore at one point (but for the love of god, do not introduce this band to your chav friends!).
You really won't find any tracks that sound like they're making up the numbers here; opener 'Born For Adversity' and 'Positiv-O' would both hold up well in an A Day To Remember set as much as 'Time's Up!' and 'We Fell Fast'. The only lull in the crashing onslaught of wail/crunch/wail comes in token acoustic track 'For All We Know', which really has to be in there because well, it's a pop-punk album. It's easy to just skip over though.
Written by Martin Savage