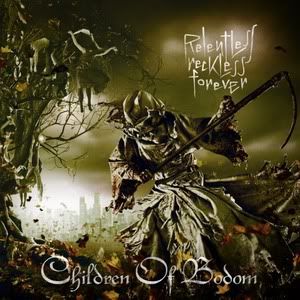 Release Date: March 8th, 2011
Label: Spinefarm Records
Website: www.cobhc.com
MySpace: www.myspace.com/childrenofbodom
Rating:

Children Of Bodom are back with their seventh studio record, 'Relentless Reckless Forever'. Bodom are renowned for being very hard to pigeon hole in terms of genre. There's been debate between critics and fans as to the nature of Bodom's music, and where they fit in. They've been labelled with many different genres, including power metal, extreme metal, melodic death metal and thrash. Singer and guitarist Alexi Laiho recently stated that the band prefer just to be known as a metal group.
This album does throw up elements that will stoke the fires of the genre debate for the band. There are tracks that are simply straight up metal tunes, the party vibe of 'Was It Worth It?' screams metal at you, but there are songs which blur the lines slightly. 'Roundtrip To Hell And Back' has a slower vibe than most of the album, and combines crunchy, ringing guitars with a flickering keyboard sound that Bodom have made a trademark of a lot of their material.
Laiho released a statement about the lyrics to 'Pussyfoot Miss Suicide', saying that it was a song written about girls who attention seek by threatening self-harm. Laiho said that the song has a dark humour about it, it's a pretty unpleasant subject matter but they haven't written a depressing song about it. In terms of the music behind the words, 'Pussyfoot Miss Suicide' stands out the most when you listen through the album. It has a very 80s metal vibe about it and you can't help but wonder if the band spent a while listening to Motley Crue before writing this song at least. The riffs have a gloriously sleazy vibe to them, and as a whole it is a song that drips with charisma.
For fans of guitar work, this album will certainly hold a great deal of appeal for you. There are riffs absolutely everywhere, solos a plenty and loads of great hooks dotted all over the place to keep you listening. Unfortunately, when you look past the guitar work, the album has a very repetitive feel to it. A lot of the song structures feel recycled and unoriginal, and you can often not notice how many songs into the record you are due to some songs not being that different from the ones before.
If you're a Children Of Bodom fan then this record will undoubtedly impress, and they will definitely win themselves some floating voters in the metal scene. The record is a bit too repetitive and unrelenting for it to really stand out though. There will be worse albums released this year, but unfortunately for Children Of Bodom there will undoubtedly be better ones too.
Written by Joshua Peett
Founder & Editor for DEAD PRESS! | Atheist and antitheist. | Judge of the quick & the dead since 1989.