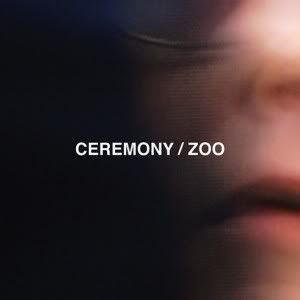 Release Date: March 6th, 2012
Label: Matador Records
Website: www.ceremonyhc.com
Facebook: None available
Twitter: None available
Rating:


Since their inception back in 2005, Ceremony have been one of the most respected bands in hardcore. Their fierce live show is a perfect balance of artistry and aggression, and the same can be said for their new album, 'Zoo'. Opening track 'Hysteria' sets the pace of the record, an average speed, perfect for bobbing your head to. You find yourself becoming lost in the rhythm, the repetition of the guitar lulling you into a trance. Gradually the aggression builds, yet the beat remains constant, never altered. This, accompanied with the words "Hysteria, hysteria" echoed again and again is very powerful, almost subliminal.
The tempo throughout the record rarely changes and is done very intentionally. It lures you into a state of lethargy whilst the intensity and anger, either through vocals or music, creeps up on you and reveals itself. 'Repeating The Circle' uses this technique outstandingly. Gentle basslines and mesmerising guitars again placate the listener, before howling feedback and sampled vocals skulk in and makes what was a pleasant listen very unsettling.
'Zoo' has a very traditional hardcore punk formula, with nods towards bands such as The Misfits and The Damned, but with a contemporary feel. For instance, the simple lyrics in 'Nosebleed', consisting of three lines: "My nose bleeds like my father's / I'll never be pure / I'll always be loved" is very reminiscent of 80s punk. Even going to the trouble of keeping the sound of drumsticks clashing together to count the band in on record is almost like an homage to their predecessors.
The tone, image and arrangement of the record is clearly considered. Ceremony have gone to extra lengths to be represented in the way they want to be. The acoustic guitar outro on 'Community Service' is a ballsy move, especially considering how mellow the rest of the record is. But, that's what is so incredible about this record. You're hanging on, almost expecting to be assaulted by a thirty second blast of straight up hardcore, but instead you're thrown off by an even more subdued acoustic rendition. Another amazing feat that has been accomplished is that, even after that, all the menace of Ceremony remains.
Previous records, such as the aptly named 'Violence Violence', stung like a strong punch to the nose, whereas 'Zoo' is like being stared out by someone from across the room. Not that Ceremony are holding back at all, but they have certainly matured. They don't need to make a full blown attack. They paid their dues long ago, proving themselves as the angry, belligerent punks they are. Instead of being the attacker, 'Zoo' is like that one slightly older, hard-as-nails bastard down your local. His fighting days may be over, but with one firm look, you're reassured he could still knock the shit out of you.
Written by Jack Birch