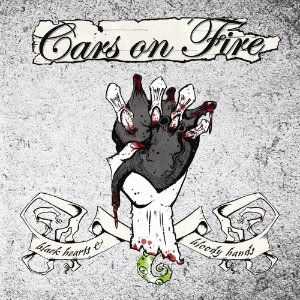 Release Date: October 29th, 2012
Label: Knife Fight Records
Website: None available
Facebook: www.facebook.com/carsonfireband
Twitter: www.twitter.com/carsonfireband
Rating:

It has been three years since their last record, 'Dig Your Own Grave', but Bristol's Cars On Fire are back to give us another raw, energetic punk experience. 'Black Hearts & Bloody Hands' offers everything, from soaring choruses that will make your throat sore to first throwing, hard hitting finales.
The album kicks off with vocalist Ali Ross rallying the masses with the sing along, primarily vocal lead, 'Borders'. From here on out, the album is somewhat an anger controlled journey, you could even say that it's a bi-polar experience. With tracks such as 'Sex Death Sex Death' and 'The Singapore Grip' bouncing between melodic choruses and gut retching yelps, it really is emotionally mixed up, but it's a great emotional mix up.
It's also worth noting that an unexpected guest jumps in on guest vocals on the track 'Of Grace & Bone', who is none other than Charlie Simpson of Fightstar fame. It's interesting to listen to how Simpson works alongside Ross to contribute to the texture of the vocal segments, but it could also be argued that the track doesn't necessarily need an extra vocalist. The song was fairly accomplished to begin with.
In the midst of all this anger and euphoria, it's hard to find a solid medium in the album until track six, 'Rhythm & Command', throws all caution to the wind and dives straight into a good old, high paced hardcore track with drummer James Hester leading the charge. No melodic choruses, no soaring clean vocals, just a solid 3 minutes of anarchy. From here, the record keeps up the tempo with 'Anchor Your Heart To Sea' and 'Marchioness Of The Night', keeping the consistent verse/chorus/verse structure and switching between punk riffs and melodic choruses.
The album is certainly a solid piece of work from Cars On Fire. However, perhaps the only thing that lets the album down is that it perhaps isn't 'ballsy' enough. The record plays to its strengths, which is basically Gallows-like verses mixed with pop-punk choruses. But, maybe the band could have tried to offer areas of innovation and tried to give us something totally different to raise our eyebrows.
Written by Calv Robinson