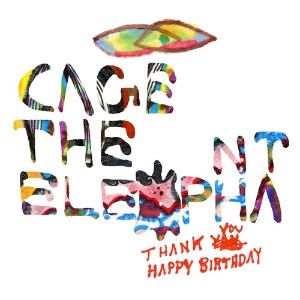 Release Date: March 21st, 2011
Label: Relentless Records
Website: www.cagetheelephant.com
MySpace: www.myspace.com/cagetheelephant
Rating:


The intro to opening track 'Always Something' sounds as if Cage The Elephant have been plundering Trent Reznor's beat bank, as the electro soundings give off an immediate Nine Inch Nails vibe. The song continues in a similarly stripped down fashion but it creates a strong intrigue as to what is coming next.
Luckily, the intrigue is indulged as second track 'Aberdeen' storms out of the blocks, initially the sound is very reminiscent of a West Coast indie-pop band, in a Grouplove style. Cage The Elephant certainly don't mess around however, and the chorus to this song is both insanely catchy and listenable with a timeless pop feel to it. The songs on this album have an intelligent feel, both musically and lyrically. 'Indy Kidz' is an attack on the indie snob culture that has infiltrated a lot of the industry; "I don't watch TV 'cause it's just a box of lies" drawls singer Matt Schultz.
First single 'Shake Me Down' comes into this album quite near the beginning at track four. It definitely isn't a case of front loading though, as the rest of the songs after it manage to back up the strength of the opening. If anything the album gets deeper and more eclectic the further into it you delve. By the time 'Shake Me Down' has run through, you're already halfway down the rabbit hole by the time the second half drags you down further.
As 'Sell Yourself' kicks in, you'll be checking to see if the same album is still playing. An almost freestyle groove takes over the chorus of this song, bringing a heavier element to the songs than anything has come before on 'Thank You, Happy Birthday'. When Cage The Elephant start playing the riffs in 'Sell Yourself' it makes perfect sense that they have been out on the road supporting The Black Keys. After the madness of 'Sell Yourself', it's a beautiful contrast to hear 'Rubber Ball' the next track, which is a stripped back acoustic ballad type song. Cage The Elephant demonstrate so well how diverse they can be musically, and it is constantly astounding.
In terms of chart positions, 'Thank You, Happy Birthday' has already eclipsed debut album 'Cage The Elephant' in terms of critical acclaim and chart success. It has peaked at number 2 in both the US chart and the US Rock chart, as well as topping the iTunes Download chart on the day it was released in the States. Cage The Elephant deserve every success they get when this album is released into the UK charts. They've written a fantastic rock album that will be played in adoration by everyone who listens to it.
Written by Josh Peett