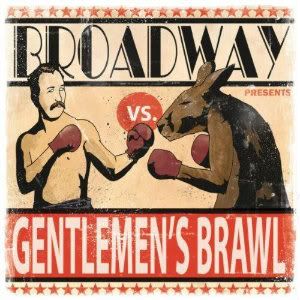 Release Date: June 19th, 2012
Label: Uprising Records
Website: None available
Facebook: www.facebook.com/broadwayband
Twitter: www.twitter.com/broadwayband
Rating:

Florida based quartet Broadway have followed up their debut 'Kingdoms' with their latest offering, 'Gentlemen's Brawl'. It;s a record that's difficult to place into any one genre and it is this variety that makes the band so compelling to listen to and keeps the record in the listener's memory. The word 'brawl' in the title is a nice touch, considering how tremendously fitting it is for the riotous 40 minutes that unfolds.
Opening track 'Party At Sean's House' sees the band's pop-punk tendencies coming to the forefront whilst maintaining a hardcore vibe (think a heavier New Found Glory). This is before songs such as 'Faster Faster' and 'Lawyered' transition the album to a darker sound, aided by some ferocious drumming and the vocal style of front man Misha Camacho sounding similar to Craig Owens of D.R.U.G.S./Chiodos who featured on their first album.
The band's ability really comes across on tracks such as 'I Am Not A Rockstar', which not only sees them take a few jabs at bands promoting style over substance, but also boasts an astonishing vocal performance from Camacho. 'There's No Crying In Baseball' features a catchy chorus and motivating lyrics, such as "In life, you can't come in last place". This ability to make the audience relate to them is also apparent in 'I've Got The Itis', where the band tell of how they would rather spend their days playing on their Nintendo 64 than getting up early for work. Wouldn't we all?
Album closer and title-track sees the group at their heaviest with a raucous breakdown, heavy screaming and a rapid drumbeat. This is the perfect way to see out the record and will definitely have listeners coming back for more. Whilst it may be difficult to place Broadway into one genre, it's not difficult to tell that they have plenty of talent and a bright future ahead. Watch out for these guys, you'll be hearing a lot more of them.
Written by Jonathon Barlow