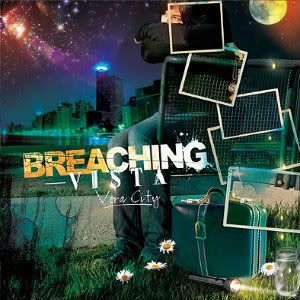 Release Date: May 3rd, 2012
Label: Bright Side Records
Website: www.breachingvista.com
Facebook: www.facebook.com/breachingvistamusic
Twitter: www.twitter.com/breachingvista
Rating:


Touring relentlessly with the likes of Theory Of A Deadman and Jack's Mannequin, Canadian pop-punk outfit Breaching Vista are quickly making a name for themselves across their home country. But, with the release of their debut full-length in the UK, will the same success be felt over this side of the pond?
After a few listens of 'Vera City', the answer is a resounding 'yes'. Packed with a variety of catchy, radio-friendly soft-rock tunes, it's difficult to criticise this band on too many levels. In fact, it's refreshing to hear a band that are relatively unknown in the UK and are able produce a high quality, well-rounded album with very few flaws.
Upon first listen, the one thing that stands out about this band are their sheer enthusiasm and love for what they do. They actually sound like they enjoy playing, which really shines through and makes each of the thirteen tracks a joy to listen to. That's not to say that there's no room for improvement. 'Vera City' still lacks the little adventurous spark that would turn this good album into a great one, but the foundations for future success are there, hidden amongst their safe, radio-friendly rock.
At a number of points, it's easy to compare them to Simple Plan and the acoustic opening of 'Letters' is a little too reminiscent of The Calling's 'Wherever You Will Go', but this soon transforms into one of the more mellower tracks on the record, filled with heartfelt vocal duets on top of gentle guitars and percussion. Equally, 'Nervous' and 'Forgive You' are very radio friendly and catchy, but fail to break new ground from what we have heard from similar bands before, despite being full of tenacity and full of emotion.
However, the great energy about this band sets them far apart from many of your run-of-the-mill pop-rock bands on the radio today, especially the vocal efforts from John Maksym, whose voice is easily able to transform from the quiet, whispered opening of 'Nervous' into the raw shouts which close the slightly heavier 'W5'. His vocals are like a breath of fresh air for this genre, sounding catchy and charged with emotion without being too whiney or melodramatic.
'Vera City' has a great deal of variety throughout, from the big choruses and infectious hooks found on 'Give Me A Reason', the gang vocals of 'Run With The Punches', to the catchy upbeat nature of closing track 'Little Thoughts'. Full of energy and catchy melodies, it's an album that will firmly plant itself in your head and repeat itself over and over for days.
If this album doesn't make the UK sit up and listen to this Canadian four-piece, then little else will.
Written by Ashleigh Wight