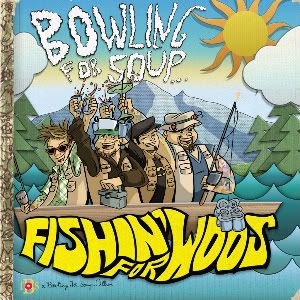 Release Date: April 26th, 2011
Label: Brando Records
Website: www.bowlingforsoup.com
MySpace: www.myspace.com/bowlingforsoup
Rating:


Bowling For Soup are quite an unstoppable band. Think about it, in the 17 years that they've been around, they have never really made a terrible album. If anything, they have just progressed, making better and catchier songs as they've gone along, remaining as one of pop-punks longest surviving acts that are still going strong today.
'Fishin' For Woos' is the eleventh (that's right, the eleventh) studio album from the Texas-grown quartet. Since they formed in 1994, they've managed to write record and release nine albums before Guns N' Roses released the infamous 'Chinese Democracy'. Take that Axl Rose. The general formula for any average Bowling For Soup record is as follows; funny songs + sing-a-long serious anthems + bouncy single = album. In an interview with frontman Jaret Reddick, he claimed that this album is for fans of the 2002 Bowling For Soup, and he's not far wrong.
'Fishin' For Woos' has the classic Bowling For Soup vibe, but there's a sense that they have matured as well. Some of the more serious songs are very well written, and you can tell the band have poured their heart and souls into them. BFS have always joked about being Bon Jovi wannabes, but they have become a loving tribute of the band they look up to. You know that when they play these songs live, they will have everyone's arms up in the air, swaying along (there may even be the odd lighter blazing from the older side of the crowd). Take a listen to 'Turbulence' and 'Guard My Heart' and you'll know what I mean.
This album still has the get-up-and-dance feel that BFS is famous for. Songs like 'S-S-S-Saturday' and 'Here's Your Freakin' Song' are filled with the pop-punk spark that makes BFS a hit with the younger generation. And as ever, it still has the comedy side of things, with 'Girls In America' containing the odd sneaky innuendo the four-piece often try to cheekily fit in.
Bowling For Soup are one of these bands that never seem to go away, and with each album far from failure there's nothing to complain about with that. With the amount of bleak and emotional music around today, it's very refreshing to have a band that make music, for the sake of making music, to make people happy and laugh and occasionally get serious for the more dramatic songs. One of the great things about BFS is that they always seem to be on tour, always giving a chance for the fans to see one of their favourite bands live. I, for one, applaud them for this. Carry on making music Bowling For Soup, please?
Written by Andy Roberts