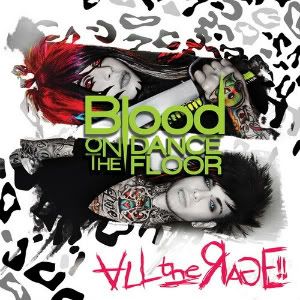 Release Date: June 14th, 2011
Label: Candyland Records
Website: None available
MySpace: www.myspace.com/bloodonthedancefloor
Rating:


Blood On The Dance Floor have (sadly) returned with another record after their most recent 'Epic' back less than a year ago in October 2010. This album is just your typical power-pop/emo-pop garbage. With large amounts of synthesizers and auto-tuning the record comes across as overly manufactured, and unless you saw what they looked like could easily pass for yet another second-rate pop act heard constantly on the radio. Consisting of poor, amateur lyrics, irritating vocals and too much studio work aside this only makes for rage listening to it. If Dahvie Vanity and Jayy Von Monroe's stereotypical 'scene kid' image isn't enough to put you off of this duo, then this album should certainly do the job.
Album opener 'Dark Dreams' sets things up with a fairly deep, meaningful and psychological narration, suggesting that the rest of the album with either have a considerable about of meaning behind it or at least an interesting concept. For an opener, 'Dark Dreams' begins with dreary, monotone vocals, leaving things dull and un-interesting before things have barely started. However, the mixture of female vocals in the song gives it a more interesting turn, redeeming itself that very little bit.
In the band's defence, it's obvious they have experimented with many different vocal styles to try and prevent the album from sounding repetitive, bringing into play some heavier vocals in tracks such as 'Happy Valentine's Day' which works to an extent, but clarity in the vocals make it hard to follow over the synthesized riff in the background. More attempts at different vocal styles are found in songs like 'Star Power!' and 'Find Your Way', providing listeners with a rap-ish vocal style, and works in contrast with their duller and less inventive 'The Untouchables' and 'My Gift & My Curse'.
'Bewitched' and 'Yo, Ho' provide the album with yet more very amateur work, and that's putting it mildly. The former of which is a love song, preaching about being under someone's love spell; equipped with bad lyrics just causes the song to sound tacky and poorly written. As well as tragic, metaphoric lyrics about witches and spells, the band also decided to throw in a song about pirates, with the latter of the two a poor, accompanied with a poor attempt of a comical narration before the song gets going. Don't feel bad if this makes you debate whether you're listening to a serious album or a children's audiobook, there's little difference between the two.
'All The Rage!!' would mainly be distinguished for its constant use of synthesized riffs. The riffs used in songs like 'X X 3' and 'P.L.U.R.' are what give it a catchy vibe, and the only thing somewhat credible for this whole piece of work from the emo-pop duo, serving as a failure of a distraction from the remaining travesty which Blood On The Dance Floor insist on constantly creating and releasing upon the public. Even Hitler doesn't deserve this level of torture.
Written by Matthew Collins