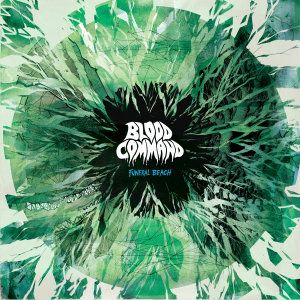 Release Date: October 29th, 2012
Label: Fysisk Format
Website: www.bloodcommand.com
Facebook: www.facebook.com/bloodcommand
Twitter: www.twitter.com/bloodcommand
Rating:


'Funeral Beach' is the debut album by Norwegian punks, Blood Command, and it's arguably one of the best debuts of 2012. After a string of fantastic EPs, the band have brought out a stunning debut album. If you've never heard of this band, just think Refused with female vocals and you'll be nearing the sound of Blood Command.
'Funeral Beach' is full of amazing songs, like 'March Of The Swan Elite', which starts fast and furious but it suddenly turns and ends with a ridiculously heavy breakdown. The record continues in this manner; hard hitting hardcore with a surprising change here and there. This is one of the reasons why this band will be huge very soon, it's an effective twist on an already popular sound.
Album highlight, 'Cult Of The New Beat', sees the band at their best. It has a real bounce to it, starting with an infectious groove on the guitar before hitting hard again with the hardcore influences but then hits back to the earlier developed groove. Again, this showcases the band are willing to show they're more than a straight up hardcore band and, for reasons like this, is why they will be huge in the coming years.
Ending with the album's title track, an epic collection of all the developed ideas visited in the entire album, the band carry the album out to a perfect end. At this point, you'll pick it back up at track one and listen to it again and again.
Vocalist Sijlie is very aggressive. Although it's cliched to compare, she has the same effect that Eva Spence does in Rolo Tomassi. The band are are hardcore, rock 'n' roll punk band and she certainly pushes the intensity on their songs. The musicianship from the rest of the band compliments the music perfectly.
Fans of Refused, Hot Snakes and Turbonegro will love this album. Watch out for this band in 2013, Blood Command will be one of the essential bands of the year and with the release of 'Funeral Beach', they have certainly started their inevitable rise to the top.
Written by Kieron Chastney