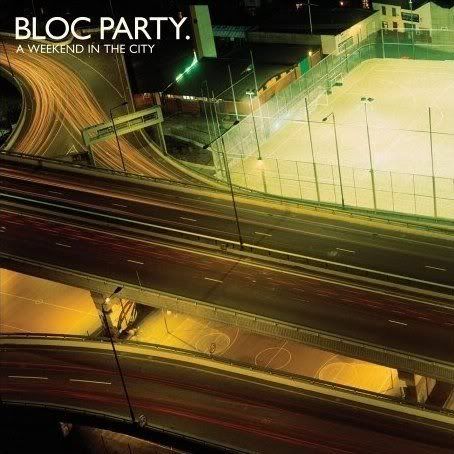 Release Date: February 5th, 2007
Label: Wichita
Website: www.blocparty.com
MySpace: www.myspace.com/blocparty
Rating:

It's been two years since the band's last release, and now Bloc Party are back with their brand new album 'A Weekend In The City'. What a wait it has been, but was it worth it? To put the answer to that question short and sweetly: yes.
The band's latest effort proves they are still the same, yet different – they've broadened their horizons. Now they're using a wider variety of instruments, and even computerised effects on both vocals and music. On latest single 'The Prayer', for example, this works to produce what is probably one of the catchiest songs the band has written to date.
Opening track 'Song For Clay (Disappear Here)' is also rather different to the band's previous work. The quiet intro consisting of almost only a single chord strum here and there soon develops into one epic sing-a-long effort that just makes you want to move.
But as with their previous album, 'Silent Alarm', there is also a more mellow side. Songs such as 'On' and 'Kreuzberg' are capable of making your heart dance and your eyes shed a tear with their beauty.
Some may think this is some sort of over exaggeration of what this band are offering, but listening to this album even just once you can see how much Bloc Party have developed over the past two years and how they could even take over your life. Keep your eyes open guys, this band are bigger, and better than ever before.
Written by Zach Redrup