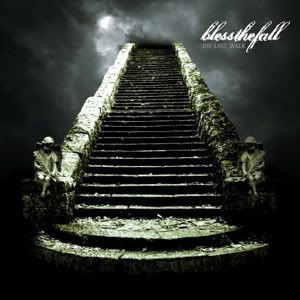 Release Date: August 20th, 2007
Label: Ferret Music
Website: None available
MySpace: www.myspace.com/blessthefall
Rating:

Newcomers onto the metalcore scene blessthefall are from a city named after an invincible mythical creature, Pheonix. Consisting of Christian members, but don't like to be labelled as a Christian metalcore band, debut full-length release by blessthefall – 'His Last Walk' – is one with a varying and refreshing taste to our normal dose from today's ever popular alternative music scene.
'A Message To The Unknown' draws us in with a few seconds worth of electronically created effects, before pounding us with an assault of a brutalised musical force. Craig Mabbitt's alteration of clean vocals and harsh screams and growls throughout the record are blended together beautifully into a beautiful work of craftsmanship. This quality is also displayed in 'Could Tell A Love' and 'Wait For Tomorrow'.
Although the band's lyrical work may contain an underlying meaning which relates to their religious beliefs, blessthefall seem to talk more about other emotionally touching topics that are much more personal towards the members themselves. An example of which would be 'Higinia', dedicated to Craig's late grandmother, expressing how important she was, and still is, in his life "And if God could keep you with me / I'd trade just about anything / You're what makes me want to change things." This is an emotional spot within blessthefall's material.
Though the most part of the record may at first come across as heavy as it is containing clean vocal work, there are a few moments of surprise as you reach the album closing track. A fair amount of the track 'Pray' is very light compared to what else you're to hear, but those with a light and sensitive musical palette can find sanctuary in 'With Eyes Wide Shut'. Containing nothing but clean vocals, a large amount of piano work, and a few other bits and bobs chucked in, there's something else out there if you aren't a fan of the band's 'heavy shit'.
blessthefall are young, energetic, and on the prowl to get the break they need to grab everyone's attention for at least a slight listen. 'His Last Walk' has the potential to do just that, and is a refreshing change from what's found in most of today's underground metal scene.
Written by Zach Redrup