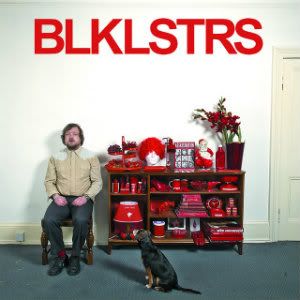 Release Date: April 24th, 2012
Label: Unsigned
Website: www.blacklisters.co.uk
Facebook: www.facebook.com/blacklistersmusic
Twitter: www.twitter.com/blacklisters
Rating:

Blacklisters are propelling themselves out of Leeds in a hive of unconventional energy. If you've seen their recently released music video for 'Trickfuck', then you'll know that Blacklisters are a chaotic, unrelenting, powerful noise and this is only further emphasised throughout 'BLKLSTRS'.
Opening track is the confusingly titled 'Clubfoot By Kasabian', made confusing by the fact that this is not a cover track, nor does it bear any resemblance to Kasabian at all. Rather, the track opens promisingly, with a catchy riff and some incredible shouts from Billy Mason thrown in for good measure. However, whatever lyrics there may be are somewhat incomprehensible, a surefire sign that Billy needs to refine his style somewhat.
Tracks such as 'I Can Confirm That Ruth Abigail Holmes Is Not Dead And Is Planning To Make A Movie About Her Life' and 'Ask Yourself A Question If The Answer Is Go Fuck Yourself' contain as many beats per minute as a mouse's heartbeat. It's unfortunate that we barely understand a word of the lyrics. It is, however, easy to see how they have landed support slots with bands such as Pulled Apart By Horses and Hawk Eyes. Their blistering, breakneck speed and energy are undoubtable and admirable, and ultimately will transfer beautifully to a live setting.
If you were to pick up a copy of 'BLKLSTRS' expecting an easy listen then, quite frankly, don't. It's an album which shows no mercy, no regard for the listener's ear drums and a hell of a lot of blinding bass lines and screeching guitar feedback. Combine this with Billy Mason's incomprehensible yet somewhat disturbing vocal assault, and you've got an album that seems to have been made with the mission statement, 'Relentless'.
The entirety of 'BLKLSTRS' is a high speed thrill ride, with plenty of diversity and talent shown throughout, but there's just something that doesn't quite present an urge to listen to this album on repeat for hours. Perhaps it's the inconsistent composition of the tracks, or perhaps it's the overuse of artistic licence in an attempt to be somewhat edgy. Subtlety is completely off the cards, but who needs subtlety when you can just make a hell of a lot of noise instead? Having said that, if you were a Blacklisters fan based upon the video for 'Trickfuck' then you'll enjoy this debut offering from the Leeds lads.
Written by Cheri Faulkner