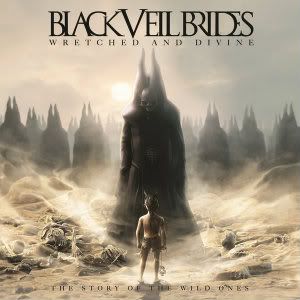 Release Date: January 8th, 2013
Label: Universal Records
Website: www.officialbvb.com
Facebook: www.facebook.com/blackveilbrides
Twitter: www.twitter.com/officialbvb
Rating:

No outfit in recent memory has split opinion more venomously than Black Veil Brides. Lambasted by many as pedalling a cash cow image, clawing to appeal to impressionable young rock fans, their by numbers, sub Avenged Sevenfold-isms are understandably seen as the ultimate style over substance. Although, the quintet's penchant for sizable pop hooks and a rousing 'us against them' attitude has seen an overwhelming popularity swell amongst surly teens and a breathless anticipation for 'Wretched And Divine: The Story Of The Wild Ones', their third full-length offering.
Being a self-confessed "rock opera", there's no denying or criticising the ambition that Black Veil Brides had going into the album, yet it quickly becomes apparent that the band's delusions of grandeur have reached a rather critical level.
Songs such as lead single 'In The End' and the call to arms 'We Don't Belong' are harmless enough with their chunky guitar work and arena baiting choruses, yet any attempts at invention fall rather flat and come across not only as overwrought, but simply dull. 'Resurrect The Sun' limps from a slow burning intro to some listless melodies, and the tedious 'Lost It All', with its laughable orchestration and hideously out of place female vocals, is just too ludicrous to be taken seriously.
For the most part, the problem with 'Wretched And Divine' is that it's simply, and for its bold declarations surprisingly, unremarkable. Book-ending tracks with snatches of atmospheric strains and imposing symphonics does little to make the release sound as majestic as the band would like to think, and for all its large claims and grandiose posturing, what we're left with is an album that is actually woefully limited in scope. Every spark of variation inevitably brings us back around to another big dumb sing along where, undeniably, Black Veil Brides are at their best.
Chock full of faux rebellion and emotion, the band's rabid fanbase will most certainly be in their element with 'Wretched And Divine'. Indeed, it's very likely that the band will silence some of their detractors with what is seemingly a more adventurous and challenging prospect. Yet, scratch away at the surface and look beyond the distracting bell and whistles, and we have little to get excited about.
Written by Tony Bliss
Founder & Editor for DEAD PRESS!