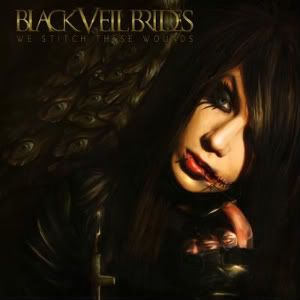 Release Date: July 20th, 2010
Label: Standby Records
Website: None available
MySpace: www.myspace.com/blackveilbrides
Rating:


Garnering much Internet fame via YouTube and their first professionally shot and edited music video, Hollywood's Black Veil Brides have garnered much hype in the lead up to their debut 'We Stitch These Wounds'. From being hardly known to every emo teens favourite underground (less so now) band in less than a year, a lot is expected from BVB. High expectations hasn't been the only thing slowing the newly famed 5-piece, but constant alterations in their line-up hasn't been easy on them, leaving frontman Andy Six as the only remaining original member.
'We Stitch These Wounds' is one of the most prominent pieces of evidence that Internet hype doesn't qualify as a reference that a band will be good or not. Black Veil Brides have certified themselves as one of the most cliche and predictable bands with the most cliche and predictable release of 2010 so far.
Lyrically following a similar formula that The Used, My Chemical Romance and Fall Out Boy set back around the time of 2004 and 2005, teen angst, parental and sibling strife, school bullying, depression, etc. is just a few of those ever-so-cheerful topics Black Veil Brides discuss. Sure, this is the kind of band that they aim to be, and there's absolutely nothing wrong with that, it's just it's been done plenty of times before, done plenty times better and in the end just leaves BVB looking like the ASDA Smartprice version of the crop.
Though Andy Six's vocals stand as probably the best thing going in the band, keeping everything afloat and trying to mask flaws from the other members, his tenor vocals lack in range which results in a boring listen, and after 3 or 4 tracks you can tell where he's going to go with each verse and chorus coming your way. In terms of comparison, they sound like HIM hybridised with the modern day Atreyu, shoving in unnecessary screams just for good measure.
It's not all bad though, the band definitely know their market and apease to it too, the Internet hype speaks for that loud and clear. It's just too reminiscent of the emo overflow from 2005, complete with cliche black and white gothic aesthetics and seas of eyeliner. There's no doubt however that Black Veil Brides are going to shift sales by the bucketload. Welcome to the emo age version 2.0.
Written by Zach Redrup