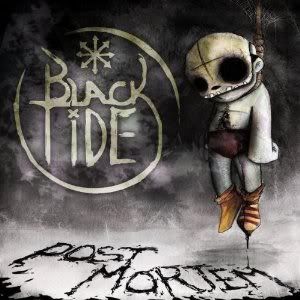 Release Date: August 23rd, 2011
Label: Interscope
Website: www.blacktidemusic.com
MySpace: www.myspace.com/blacktide
Rating:

It's been three years since Black Tide released their much acclaimed debut, 'Light From Above'. The album, with its 80s metal sound ,was looked set to lead the Miami youngsters to a very bright future. Then the years went past without hearing a peep from them, and the band was quickly forgotten about by many. However, this September sees the release of their new album, 'Post Mortem'.
At first listen, 'Post Mortem' sounds like quite a departure to their debut. The band seems to have adopted a much more contemporary metal sound unlike the classic rock that originally got them noticed. Considering the fact that the band were probably only just sitting their GCSEs (or the American equivalent) when they released their first album, it's hardly a surprise that they are now wanting to mix things up a little, especially when you consider they're still sickeningly young now. Opener 'Ashes' has a distinct Bullet For My Valentine feel, propelled further due to the fact that BFMV's own Matt Tuck pops up on guest vocal duties. Furthermore, the album features Avenged Sevenfold-esque drum intros and guitar solos, such as on 'Honest Eyes'.
That's not to say the band have completely turned their back on their retro roots. Singer Gabriel Garcia still sounds like a young Vince Neil, and songs such as single 'That Fire' and 'Take It Easy' are bona-fide fist in the air metal anthems. 'Fight 'Til The Bitter End' kicks off with a hair metal stomp running through it, while album closer 'Into The Sky' is such a blatant power ballad you could easily find yourself spontaneously air grabbing while waiting at the bus stop.
Between mixing elements of their classic metal origins and complementing it with a more contemporary edge, Black Tide have struck a great balance of what made them appeal to so many in their early years but also brings them right up to date. The band have ensured they sound relevant in 2011, and can't simply be dismissed as a nostalgic tribute to the 80s by a bunch of kids who are too young to even remember that decade.
'Post Mortem' is evidence of a band maturing and finding their own sound, and when there's so many big metal anthems in the making on display here, it could suggest that Black Tide could give many of the big guns they aspire to be a run for their money.
Written by Gavin Lloyd