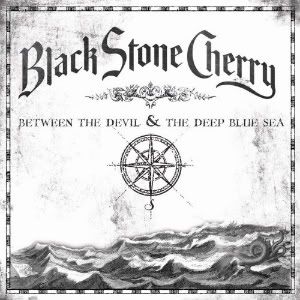 Release Date: May 31st, 2011
Label: Roadrunner Records
Website: www.blackstonecherry.com
MySpace: www.myspace.com/blackstonecherry
Rating:

In the space of a decade, Black Stone Cherry have established themselves as one of the frontrunners of American rock. Their name might not have infiltrated every nook and cranny like that of Nickelback, but if you wade through the river of shit that can only be represented by 'Rockstar' (a song which simultaneously exalted Nickelback to the pop hall of fame and signed the death warrant of hard-rock's dignity), then you reach a field where decent rock bands frolic like there was no tomorrow. This is firmly where Black Stone Cherry has set up camp.
'White Trash Millionaire' is at once a dirty-South bar-fight jukebox tune, aptly summed up in the metaphor of a hairy, fat American man riding a motorcycle wearing a leatherjacket – a symbol of style in the past, but that biker has now grown old, has 5 kids through 3 different wives, works in your local Walmart and has a drinking problem – not quite as cool as it used to be. In a similar vein, 'Such A Shame' has verses that are an immediate turn-off, with the generic heavy-metal structure leaving much to be desired. Yet, the chorus jumps to the rescue, exploding with a deeper meaning, complimented by tremendous guitar rhythm and backing-vocals to die for. This pummelling style appears later with 'Change', where it is implemented most effectively.
'Blame It On The Boom Boom' is a far-from-subtle song about fucking. The use of the synonym "boom boom" is stuck somewhere between patronising and embarrassing, and is a skip-able track made for Radio 1's shoddy rock-show and a song to replace a middle-aged man's Viagra and libido. 'Let Me See You Shake' presents a similar dynamic with the lyrics "Let me see you shake what yo' mumma gave you down to the floor", but is rescued by a killer guitar solo.
The highlights come in the form of 'In My Blood', 'Like I Roll' and 'Can You See'; the most mainstream tracks of 'Between The Devil & The Deep Blue Sea'. It is the integrity that Black Stone Cherry are able to maintain throughout that makes them even more endearing. There are undoubtedly clichés, but not to the extent of Nickelback's classically conceited 'See You At The Show'. Meanwhile, 'Won't Let Go', 'All I'm Dreamin' Of' and 'Stay' pay dues to the softer side that typifies a Southern-rock band; all songs that would characterise an epic dead-wrestler montage. It also clarifies the comparisons to acts like Daughtry and Matchbox 20 that always compliment a heavier-rock band's sound.
Black Stone Cherry avoid treading new ground, but what separates them from the rest is that they execute their task so well. They combine the best elements of all the genres of which they converge; the vocals of Daughtry, the passion of Creed, the aggression of Theory Of A Deadman, the accessibility of Nickelback and the instrumental talent of Alter Bridge. This generation's Lynyrd Skynyrd? Time will tell.
Written by Ramsey Marwan