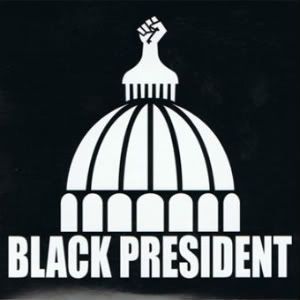 Release Date: May 11th, 2009
Label: I Used To Fuck People Like You In Prison Records
Website: www.blackpresidentmusic.com
MySpace: www.myspace.com/blackpresident
Rating:

What do you get if you take Christian Martucci of The Chelsea Smiles, Charlie Paulson of Goldfinger, Dave Raun of Lagwagon and Jason Christopher of New Dead Radio? Punk genius in the form of Black President – that's what! I would love to say that their name is in support of newly elected US President Barack Obama, but the band insists it was "intended to be a middle finger to the redneck bush administration". In true punk form, the quartet believes that the world is ugly, greedy and angry – so I must admit I did have a fixed idea in my head as to what their debut-album would sound like.
The self-titled album opens with a six second intro that does not prepare you for what happens next. First proper track 'Last Fucking Hope' throws you into a fast-paced record that doesn't let you come back up for air. In certain places the band are very similar in style to the popular UK punk act Gallows, song 'Not Enough' sounded so alike that I had to double-check to see what artist I was listening to. The stand-out track from the band's debut would be 'Not Amused'; written about the media, Black President criticise magazines for focusing on people not worthy of attention "We are not entertained by the brainless, spoiled and confused". If that's not an attack at popular celebrity Paris Hilton then I don't know what is! Another highlight at the end of the record is the band's immense cover of Alice Cooper's song 'Elected'. The song fits in perfectly with the nature of the album and was a pleasant surprise. The Californian quartet have clearly poured their hearts and souls into making a very personal record that is full of strong opinions and aggressive music.
However the four-piece still need to work on making each song sound different from the last. In certain places it was hard to distinguish where one track ended and another began. Songs such as 'Short List Of Outspoken Suspects' and 'Who Do You Trust?' sounded all too similar.
Black President are everything you'd expect from a true punk rock band; a controversial name, loud and outspoken lyrics, and a vocalist that much prefers to shouts every word rather than treat you with a melodic serenade. To be quite frank though the cliches don't disappoint, it is a superb debut-album that perhaps even Obama himself would be proud of! Punk is NOT dead, Black President are living proof of that.
Written by Kate Rees