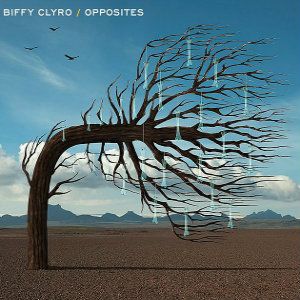 Release Date: January 28th, 2013
Label: 14th Floor
Website: www.biffyclyro.com
Facebook: www.facebook.com/biffyclyro
Twitter: www.twitter.com/biffyclyro
Rating:


Perhaps the most guitar centric and outlandish outfit to achieve chart bothering status in recent years, Biffy Clyro may have steadily moved towards satisfying a more vanilla palate with 'Puzzle' and follow-up 'Only Revolutions', yet the fact remains that, despite their continuing success, the band have scarcely compromised their eccentricity.
Arriving now at their latest offering, 'Opposites', the Scottish trio have delivered an album which is perhaps the most exciting of their career thus far, acting as a summation of the band's past, present and most intriguingly future, and at points treating us to a Biffy that truly throws caution to the wind.
Being a double album and featuring twenty tracks, it's certainly true to say that 'Opposites' needs a while to absorb. Yet, bucking the trend of most expansive rock opuses, the tracks here remain tightly constructed and welcomely avoid any voluminous pondering. Opener, 'Different People', proceeds rather subtley, all shimmering ambience and slow burning melodies, before some explosive instrumental work picks up the pace, whereas lead single, 'Black Chandelier', is all massive chorus hooks and quirky lyricisms.
Indeed, the first half of this release ('The Sand At The Core Of Our Bones') acts as a rather smooth introduction. Songs such as the title-track, a jaunty 'Sounds Like Balloons' and the cinematic 'Biblical' are as melodious and arena ready as anything already in the Biffy Clyro canon, yet certainly don't push the boundaries of what we know the band are capable of. Part two, however, racks up some of the most all embracing material the band has yet to offer.
Not only this, but 'The Land At The End Of Our Toes' is more often than not equally as aggressive as it is experiemental. 'Stingin' Belle' marries some gut wrenching chord stabs with a surprisingly anthemic bagpipe breakdown, 'Spanish Radio' is impressive as some pleasant Mariachi florishes and winding guitar work make their way towards a real hack and lash finish, and 'Skylight' even tinkers with some electronic touches which, even given their distinctly passe vibe, slot in rather seemlessly.
'Opposites' is undeniably not a perfect record, yet ultimately the sheer scale of inventive gusto and all encompassing scope makes it difficult to fault Biffy Clyro here. Anthemic, aggressive, utterly digestable whilst teeming with ideas, it would have been all too easy for this release to end up being career suicide, yet after attacking their vision with a fearless bravado, we are left with a veritable banquet of creativity that remains unmistakably Biffy.
Written by Tony Bliss