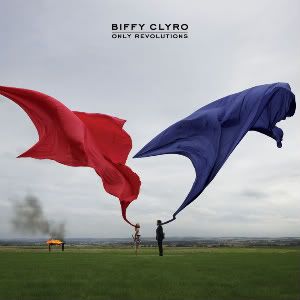 Release Date: November 9th, 2009
Label: 14th Floor Records
Website: www.biffyclyro.com
MySpace: www.myspace.com/biffyclyro
Rating:


Our first taste of the album came with the release of 'Mountains' in August '08; originally planned as a non-album song, but in the end finding its way onto the contents of 'Only Revolutions', with powerful vocals and an uplifting chorus, it's a taste of things to come on the new album.
Stand-out songs on the album include opening track (and recently released as a single) 'The Captain'. Starting off with foot stamping and whooping before the spoken word lyrics from Simon Neil come in, it has an almost nautical sound to it, like an old chant you'd hear on the high seas in something like 'Pirates of the Carribbean'… I guess that comes from the name being 'The Captain', something tied in with the promotional video for the song which has the band performing on a pirate ship.
Following in the footsteps of that is 'The Golden Rule', another song which has seen a release as a single in the run-up to the album being brought out. Anthemic is a word thrown around willy-nilly when talking about music, but 'The Golden Rule' is a song that fits the said category; slow sections, instrumental sections, quality vocals from the lead singer and string sections thrown in for good measure… this song would sound amazing live; this album's 'Living Is A Problem'?
Another song released before the new record 'Many Of Horror' – four singles all released pretty much before the album saw the light of day, not too often that occurs. But anyhow, the song is a slow builder; starting off softly with acoustic guitars and a slow drum beat in the background. As the song progresses, the sound gradually increases before hitting full volume as the song closes out, it is definitely a special song and one of many high points of the album. A special mention has to be made about 'God & Satan'; another acoustically-driven song which sees frontman Neil pouring his heart out through the medium of song. Torn between what is right and what is wrong, he ponders a number of topics throughout, namely the title of whether talking to both God and Satan is cynical.
It is a truely magnificent album throughout, not a single weak song to be found through the 42 minutes and 12 songs that compose 'Only Revolutions'.
'Puzzle' sent the Scottish threesome skywards as it smashed through the mainstream; perhaps alienating some of the hardcore fans from previous albums with their new found commercial success. Those said fans will probably not be changing their stance anytime soon, as 'Only Revolutions' will not only send this band to stratospheric levels but it has spawned many songs that will be heard on the airwaves for years to come. Not that that is a bad thing though. It is a near-perfect collection of songs. My only negative is that it is over too soon and you are left wanting more.
Written by Tom Donlan
Founder & Editor for DEAD PRESS!