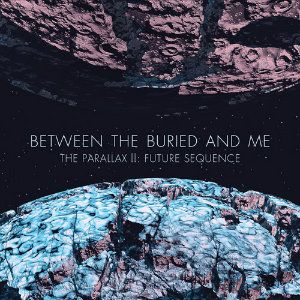 Release Date: October 9th, 2012
Label: Metal Blade Records
Website: www.betweentheburiedandme.com
Facebook: www.facebook.com/btbamofficial
Twitter: www.twitter.com/btbamofficial
Rating:

Between The Buried And Me are not your average band. An average band would not play metalcore mixed in with hoedowns and jazz sections. They are the sort of band that'd stay behind after music class and spend their lunch break jamming in the studio. They know what the fuck they're doing. They're the band that would result if someone really pissed off Dream Theater.
'The Parallax II: Future Sequence' is the final part of an elaborate tale that started with 2009's 'The Great Misdirect'. The final track on that album, the epic 18 minute long 'Swim To The Moon' was the first chapter in a story of two souls at two points in the universe that eventually meet. The official part one was released early last year; 'The Parallax: Hypersleep Dialogues'. It was only 3 songs long, but still clocked in at 30 minutes and was some of BTBAM's heaviest work. Whilst it made an impact, it was really just a teaser for the main spectacle. Seventeen months was the wait between the two releases, and you'd have to say that fans will not be disappointed.
At 72 minutes and with an ongoing storyline, you've gotta be paying attention. Reading the lyrics along whilst listening to the music makes BTBAM a hell of a lot more understandable. Another good idea if you still don't know what's going on is to watch the video for 'Astral Body', probably the most accessible track from the album, which elaborates more on the concept of the album and introduces the two characters 'Prospect I' and 'Prospect II'.
Stylistically, 'The Parallax II' isn't drastically different from their previous efforts, but part of the charm of BTBAM is what comes in between the metallic sections. This time round, there is no shortage of whimsy, featuring xylophone solos and childrens music thrown into the already crowded clusterfuck of styles.
If you're willing to put the time into listening to BTBAM, you may have just found your new favourite band. Pretty much everything they've ever done has been genius and they don't look like they'll be letting up any time soon. If you don't click instantly with 'The Parallax II', then you should definitely try a different album. There really is something for everybody, and if you don't believe it, just look at where 'The Parallax II' entered into the Billboard 200.
Written by MG Savage