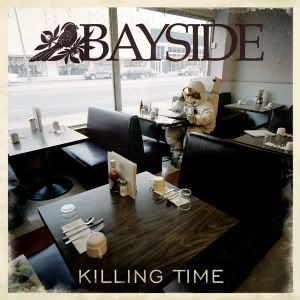 Release Date: February 22nd, 2011
Label: Wind Up Records
Website: None available
MySpace: www.myspace.com/bayside
Rating:

Bayside are a band that I've not really listened to in the past, but judging by their latest album 'Killing Time', this is something to correct quickly. This pop punk/emo/punk rock outfit have been around for a while now, and have kept going in spite of many line-up changes and the death of one of their members. For fresh ears to this band, it's kind of like listening to Alkaline Trio, but instead of a Misfits vibe, expect more of an 80s alternative rock vibe. Anyway, to the album.
Getting straight to business with some frankly brilliant riffs, 'Already Gone' opens the album straight with the meat of what the album sounds like: solid guitars, fast paced and those vaguely emo lyrics that are simply brilliant. Next track, 'Sick, Sick, Sick' is a similar business, but with more gang chants. The pace slows down for an entire song with 'Mona Lisa' before getting back up to speed again for a few more tracks, before hitting a slightly chuggy, but somehow not out of place 'Sinking And Swimming On Long Island'.
The album sticks to the same vibe for most of it, however 'On Love, On Life' breaks the album for a short while, as a mellow break with some added orchestral parts. It's clichéd, but still good. Ending on a rather dark note with 'Killing Time', the title track for this album closes the album in a far more down beat way than the opening, as if the actual has been defeated.
Overall, this album is a solid piece of music. There are no ground breaking sounds or ideas in this album, but what it does have is an amazing slice of the alternative rock/punk sound, executed with so plenty of flair and talent and is catchy as hell. A sure definite runner for many as a favourite album of this year.
Written by Joni Andrews