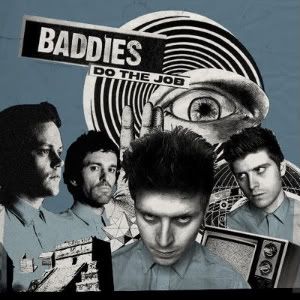 Release Date: September 28th, 2009
Label: Medical Records
Website: None available
MySpace: www.myspace.com/baddies
Rating:


After a busy touring schedule last year and securing a solid fanbase, Baddies will hope that their debut studio album 'Do The Job' will do exactly what it says on the cover.
Baddies spit, spew and hurl through the majority of the album trying to bring something new to the table, succeeding in songs such as 'Open One Eye' and 'We Beat Our Chests'; carefully planned songs with catchy pop hooks over an indie arsenal of almost artful guitar playing and ferocious drumming.
No doubt NME will lap Baddies up this year and for years to come, not that the band leave anyone much choice but to listen to them. They're angry, they want to be heard. Though understanding what they're saying does sometimes prove to be a bit difficult. It's like listening to a young Clash on steroids – paving the way for an intriguing listen.
The indie rockers have indeed done the job on their debut album, but so many have done so before them. Too many songs on the album are reminiscent of their fellow indie rock comrades White Lies and Kaiser Chiefs. Catchy pop hooks and riffs along with infectious sing-along choruses have been done before to death, with bigger, better and with more successful results.
Baddies will just have to add some variety to their indie arsenal to prevent themselves from becoming stale for their next venture.
Written by Sean Edwards