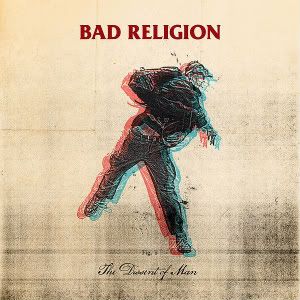 Release Date: September 28th, 2010
Label: Epitaph
Website: www.badreligion.com
MySpace: www.myspace.com/badreligion
Rating:

Bad Religion are one of the greatest punk bands ever. They've been around since the late 70's, have had few line-up changes and can arguably claim to be one of the fathers of modern punk. Albums 'The Empire Strikes First' and 'New Maps Of Hell' saw them return to form after the disappointing 'The Process Of Belief' – leaving recent release 'The Dissent Of Man' being widely anticipated. Which is unfortunate, as it's not very good.
'The Day The Earth Stalled' starts things off well enough: it's fast, full of vocal harmonies and the band's trademark combination of depression and defiance is in full flow. Yet it doesn't live up to other recent album openers such as '52 Seconds' or 'Sinister Rouge'. 'Only Rain' is more promising: Brooks Wackerman's relentless drumming and Jay Bentley's storming basslines work well but the vocals just don't seem to fit. Graffin can still hit the notes but neither the lyrics nor the melody sound quite right.
First single 'The Resist Stance' is the third song and picks up the pace a little more, but the sheer energy and aggression of Bad Religion in their prime is simply absent. 'Won't Somebody' slows down to an almost gentle country song and the lyrics "Won't somebody please come up with something / 'cause Jesus just don't seem to be impartially working" are reminiscent of traditional Bad Religion calls for social change. But it's a pale shadow of songs like 'God's Love' or the iconic 'American Jesus'.
'The Devil In Stitches' suffers from lyrics that have been forced into lines where they don't really work, which is a very surprising thing from such an intellectual, articulate band. 'Pride And The Pallor' is a decent enough Bad Religion album track with a strong opening guitar line, but it's hardly a standout. 'Wrong Way Kids' on the other hand has a faster pace and a big, singalong chorus. 'Meeting Of The Minds' continues the mid-album revival, and at a regrettably-short 2:07 in length it would have been the perfect album opener, with frenetic guitar work and it is the first time that Graffin actually sounds angry about something in his singing.
'Someone To Believe' has some punch to it, but while 'Avalon' has a decent sound, the lyrics themselves are a little wet by the standards of one of the greatest punk bands of all time. 'Cyanide' slips back into country territory, complete with slide guitar and one of the worst chorus lines of any Bad Religion song ("missing you is like kissing cyanide"). 'Turn Your Back On Me' continues the country theme, with self-pitying lyrics about a relationship that's gone wrong. 'Ad Hominem' has a little more rock to it, but while the words focus more on the traditional Bad Religion hunting grounds of social inequality, it simply doesn't cut it ("ad hominem / you think you're better than I am"). 'I Won't Say Anything' closes the album with a little more country swing, and to be frank, is a poor-quality choice to close the album out.
Unfortunately, much like AFI are now an electro-pop outfit instead of the fast, snotty hardcore punks they started out as, Graffin's side project influences are now creeping into the musical style of the original band. There's probably country fans out there who will like about half of this album. However, for people expecting or wanting fast, aggressive, melodic punk, 'The Dissent Of Man' isn't a brilliant choice to go with.
Written by Rhys Milsom