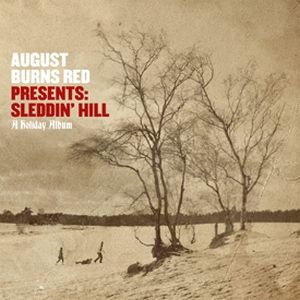 Release Date: October 9th, 2012
Label: Solid State
Website: www.augustburnsred.com
Facebook: www.facebook.com/augustburnsred
Twitter: www.twitter.com/abrband
Rating:

'tis the season to be jolly, right? Well, if there's any band that needed to do a Christmas album, it's August Burns Red, a band who rely on thick and heavy screams paralleled by humungous riffs able to give any sack bearer a heart attack. The complete opposite of the appropriate band to create a complete Christmas themed album it would seem.
There are no screaming vocals on this record, it's important to get that out of the way first. It's hard to work out why ABR have released this album other than to make people feel good and to just have a laugh recording it. Because of the fact that there aren't any vocals, it doesn't make the record feel weird or alien as even though the album is Christmas based, the band's fingerprints are all over it.
On opening track 'Flurries', we hear the band's signature fast riffs balanced perfectly with the brilliant drums. On this, we also hear a real melancholy side to the band which, if you've seen August Burns Red live, you wouldn't necessarily associate with them. This record also gives us some unique takes on classic and well-loved Christmas songs; it's probably one of the only times you'll ever hear 'Frosty The Snowman' interspersed with metalcore breakdowns, which is pretty special.
The band's rendition of 'Jingle Bells' is great too. Instead of just plunging straight into it, they start off soft and gently for a minute until they get to the signature tune of the track and it's done with real precision and thought. You've got to applaud the band on how they've managed to turn a handful of Christmas songs into effortless metal tunes and keep the songs dynamic and interesting with no vocals.
'Sleddin Hill', A Holiday Album' will make you feel joyous and pray that December 25th hurries up, but it feels more than just a gimmicky seasonal album. It feels like the band have actually put a huge effort in. It ends on 'We Wish You A Merry Christmas', and it's a fitting end to a quite surprising and uplifting release from a band who will probably just move on and focus on releasing a proper follow-up to last year's 'Leveler'.
Written by Greg Spencer
Founder & Editor for DEAD PRESS!