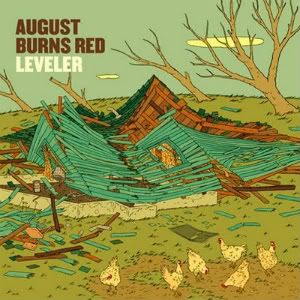 Release Date: June 21st, 2011
Label: Solid State
Website: www.augustburnsred.com
MySpace: www.myspace.com/augustburnsred
Rating:

There's always been a select few bands that I should in all theory love, but for some reason I don't. Megadeth and Opeth are on that very list, and so are August Burns Red. I dunno, I've listened to 'Constellations' and 'Messengers' and they just didn't interest me that much. Maybe I don't "get" them. Anyway, with fourth release 'Leveler' I think I've finally started to like them.
The band has slowly been releasing tracks since May, firstly 'Empire' which I couldn't stop listening to. It's been put as the first track on the album and it's a fucking killer start. You've got the sick breakdown and the uplifting singalong chorus, it all makes for an awesome song. There were 3 or 4 more tracks released early, but none of them came near to 'Empire' for catchiness.
Listening to the album in one sitting is actually a surprisingly daunting task. At 48 minutes, it's too short for a roadtrip, but too long for listening to as you munch on your Coco Pops. If footballers listened to music when they played, it would be the perfect amount of time. Maybe they should look into that. The first few tracks are pretty above-average metalcore; the proper ABR fans will probably love them, so there's no risk of offending any of them. By track 7 it starts to lose pace, but just as the album begins to judder comes the magnificent 'Salt & Light'. Pardon my language, but this track is the fucking shit. It's the soundtrack to your Jennifer-Aniston-blowjob-on-a-cliff fantasy, and I'm pretty sure if played to a dead puppy, it would bring it back to life. If you listen to one song from this album, this is it: I think it's the melody entwined with the brutality that makes it, and of course the rousing monologue section just before the powerful final chorus.
Near the end of the album comes the instrumental '1/16/2011' and 'Boys Of Fall'. These are about a group of four high school kids who were killed in a car crash in the band's hometown. 'Boys Of Fall' is a tribute to them, whilst the instrumental is a nice melodic piece to juxtapose with the rest of the album. My only criticism is that it could easily be a bit longer (it's only 52 seconds).
August Burns Red have recently been announced for the Eastpak Antidote tour, alongside A Day To Remember, The Ghost Inside and Living With Lions. Unfortunately for us in the UK there are only 3 dates: Manchester, Birmingham and London. I for one will be trying my best to get along to one of them.
Written by Martin Savage