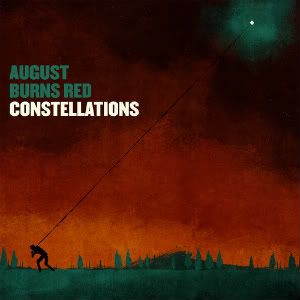 Release Date: July 14th, 2009
Label: Solid State Records
Website: None available
MySpace: www.myspace.com/augustburnsred
Rating:

A lot of hopes were riding on 'Constellations' – the third instalment from the Pennsylvanian Christian metalcore quintet – as this was either going to be an album that proved they still have what it takes, or one that showed that they were gradually losing their grip on the genre they have pioneered for so long. Luckily for the five-piece the latter doesn't even come into the equation, as on first listen the band are just as good as ever, if not better.
Leaping straight into the first track, vocalist Jake Luhrs shows he means business with a completely no nonsense approach to his lyrics "You are infatuated with what consumes you / Put the victim on the front lines, and left for dead". The rest of the album follows a similar approach, dotted throughout with catchy riffs and intense breakdowns. The inclusion of piano instrumental breaks in various songs throughout the record softens the sound somewhat, and serves to show the band have more to them than what originally meets the eye. Delve a little deeper into the record and you'll begin to notice the intricacy in which each of the songs is put together, how they each fit together and aid in the maturity of the band's sound. 'Meridian' is the longest track on the record, standing at almost 6 minutes long, and is definitely the stand out track for me. The passion with which Jake Luhrs delivers the lyrics "I will build you up again and you will be rebuilt / I am the painter making this mess a masterpiece" shows the song's personal nature. Those prepared to do their research will discover that in fact the lyrics are mainly made up of Bible quotes from Jeremiah which not only serves to remind the listener of the importance of the genre, but also of how deeply routed amongst them the band's faith really is.
'Constellations' has certainly served to show that August Burns Red have not lost any of their brilliance since 'Messengers', and that despite some of the tracks bearing a slight resemblance, their sound has by and large matured into a fantastically energetic, catchy and brutal brand of Christian Metalcore that has thus far only been achieved by August Burns Red.
Written by Lucy-Jayne Love