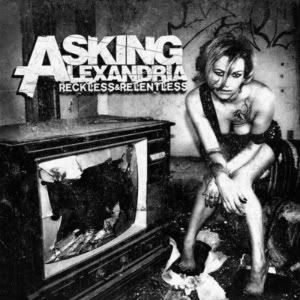 Release Date: April 5th, 2011
Label: Sumerian
Website: None available
MySpace: www.myspace.com/askingalexandria
Rating:


Love them or hate them, Anglo-American quintet Asking Alexandria are the buzz band of the moment. In the run up to their hotly anticipated sophomore album, there's been a lot of talk about the band, some good and some not so good, but on 'Reckless & Relentless', they aim to silence all of their critics and prove that they are in fact deserving of the status they seem to have achieved.
Unfortunately then for the band, most of this hype surrounding their second album seems to be a lot of smoke without fire, as throughout the vast majority of the album their generic sound falls way short of the benchmark set by 2009's debut, 'Stand Up And Scream'. Abandoning their old, breakdown laden style in favour of a more 'grown up' approach, opting for big choruses in favour of punch breakdowns, whilst they still remain in the songs, they seem forced and almost avoidable. As the huge, melodic 'Someone, Somewhere' shows, the band don't need to rely entirely on breakdowns to write a good song. If only the band had realised this before deciding to rehash to the previously good 'Breathless', adding some extra breakdowns for 'effect'.
There are some decent moments here; 'Dear Insanity' packs a mighty punch and a huge chorus to match, whilst 'Another Bottle Down' hints at their former glory it is not a touch on anything that precedes it. 'To The Stage' provides the listener with a hint of Bring Me The Horizon before fading away at the end. This appears to be the case on many of the songs on this album, which is a definite problem. Another problem is Worsnop's faltering vocals, which become more and more noticeable on high octane offerings like the title track and 'The Match'. The only person who impresses from start to finish is drummer James Cassells, who keeps time perfectly and even begins to show off some of his technical skills on 'Morte Et Dabo' which have not been displayed previously.
'Reckless & Relentless' is the tired sound of a band who are on the verge of being past it. For a band that have only been around for about four years, this is a major problem. With their live show also faltering, one can't help but wonder what comes next for this band. Based on what they've produced here, I'd say that the future is definitely bleak for Asking Alexandria.
Written by Oliver Thompson