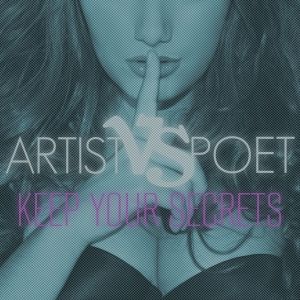 Release Date: January 10th, 2013
Label: Unsigned
Website: www.avparmy.com
Facebook: www.facebook.com/artistvspoet
Twitter: www.twitter.com/artistvspoet
Rating:

'Keep Your Secrets' is Artist Vs. Poet's newest album. Despite the fact that singer, Joe Kirkland, was beaten in the knock out rounds of USA's The Voice last year, he along with remaining members Jason Dean and Dylan Stevens have returned to the music world fighting with 8 tracks bursting with life.
The album overall is a perfect flavour of a lot of good music to come out this year and sounds a lot more honest and raw when compared to their past music. The album opens with undoubtedly the most upbeat track on offer here, 'Ready To Roll', which sounds similar to their first album 'Favorite Fix', with the main difference of Kirkand's voice. It's the perfect song to bring in the end of the winter.
Second song, 'Keep Your Secrets', carries on in the same style, making it an easy album to really get into before it brings in more acoustic and slower songs, such as 'Ready Or Not' and 'Stay Strong'. What's great about the album is the different sides of Artist Vs. Poet that are revealed. They're able to keep their untainted pop-rock and not be repetitive or too safe.
There isn't a track on this record that lacks spark or honesty. It's easy to hear in the songs that a lot of work and nurturing have been put in to making each of the songs. It's the perfect thing to bring the in the new year and is definitely not the last we will be hearing from this band.
Over the past five years, Artist Vs. Poet have gained and lost members for the better. 'Keep Your Secrets' really shows just how much the band have grown and flourished into great and extremely talented musicians.
Written by Caitlyn Dewar