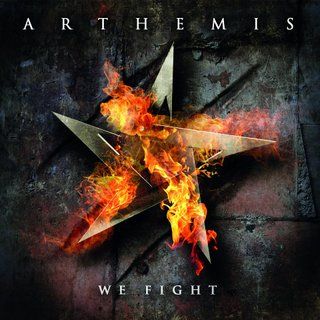 Release Date: August 27th, 2012
Label: Scarlett Records
Website: www.arthemisweb.com
Facebook: www.facebook.com/arthemis.official
Twitter: www.twitter.com/arthemismusic
Rating:

Arthemis are a thrash metal group from Italy, and they look just as thrash as the devastating sound they make. Prepare to scoop up what's left of your face from the floor after listening to this 'We Fight, because they certainly specialise in the most face melting thrash. They play a monstrous fusion of dark heavy metal with thrash orientated riffs coupled with souring melodic vocals that are encapsulated in a modern metal grip. Arthemis all look how you should look when you play thrash metal, so forget your Obey caps and Vans pumps. It's all about long Viking-like hair with studded cut off denim jackets, permanent scowls and normal, not skinny jeans.
This, the band's seventh album, is a combination of what fans have grown to love about Arthemis. Hilariously though, the band also released a record called 'Pop Up Your Ass', where the band took tracks from the likes of Rihanna, Madonna, Lady Gaga and Michael Jackson, but to name a few, and gave them a thrash metal re-imagining.
One of the best things about 'We Fight' is the track names, especially as the opening instrumental tune is called 'Apocalyptic Nightmare'. However, far from being an actual nightmare, when the album does explode into life it's a heavily groove ridden journey through the world of thrash metal. The first full on track, 'Empire', is a heavy weight battery of crushing riffs, much the same as 'Burning Star' which is a real bastard track of spiky thrash chords and metal groove.
Album title track 'We Fight' really is worth naming the record after, as it's massive in almost every way and the track is predictably about standing and fighting together and it certainly pokes at your more aggressive side. 'Reign Of Terror' is a soaring cavalcade of solos from the lightning handed Andrea Martongelli.
'Alone' offers a brief three minute respite from the otherwise relentless metal assault and has a massive eighties power ballad feel to it and if the band released this as a video, there would be lots of rain and explosions of fire. That sort of ballad.
Fabio Dessi might well be the star of the album with his powerful vocal work. His nostalgic sound harks back to an era before thrash and metal was saturated with singers screaming their throats into oblivion. His voice is powerful yet perfectly understandable, although there is a twinge of Metallica and Iron Maiden to it.
This is a very important album for anyone who likes thrash metal and for anyone who wants a bit more than your chug-u-lug metal that's doing the rounds at the moment. So, grow that hair, cut off those denim sleeves and get your horns in the air.
Written by Steven Potter