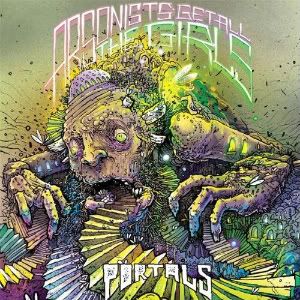 Release Date: July 14th, 2009
Label: Century Media
Website: None available
MySpace: www.myspace.com/agatg
Rating:


Arsonists Get All The Girls are back on the scene with third full-length 'Portals', and show what they are capable of with the release of their best work to date. The Deathcore band from Santa Cruz, California have been through a heck of a lot in their four years together; tragically losing bassist Patrick Mason on the day after his 21st birthday and then vocalist Cameron Reed leaving after "receiving a message from God", but they are still going strong with Jared Monette taking up vocal duties and Jaeson Bardoni picking up from Mason.
Their mixture of deathcore, thrash metal and electronica is something that you may see the odd group of teens attempt to do, the only difference is that AGATG know how to do it well and manage to pull it off with finese and success song after song. Opening track 'The 42nd Ego' is a straight in-your-face kick-off; powerful vocals and some intriguing use of electronica, and not to forget the break-downs throughout. Definitely a grower. 'Skiff For Suits' could be the song of the album; brutal deathcore with a sprinkling of synth throughout – at 3.39 it is one of the shorter songs on the album, but packs a huge punch despite this. It is quickly followed by 'In The Empyreans', another great burst of a deathcore/synth hybrid. You sense this album is something special from these two.
The effect is slightly worn off by the end of 'Saturnine' though, just lacking a certain something that the previous two tracks had. A bit harsh to call it a lull but, thankfully, all is forgotten after 'Violence In Fluid: Triceratops' – easily the best thing you'll find on the album, maybe even the best song this band has ever done? Sticking with the deathcore growls, the synth sounds and chucking in some excellent solos for good measure, why can't all music sound this good?
The album's title track is by no means the worst song on the album, but it suffers from being too long. 'To Playact In Static' picks things back up, but things are brought to a disappointing end with the record's closing track. 'Tea Time Tibbons' comes in at a ridiculous 14 minutes in length, and with lack of interest or intricacy you have to question why it is so?
A strong offering from the lads from California, but let down by three of the final four tracks. Without T3 then this would be a brilliant album, but instead it is down as a great album.
Written by Tom Donlan