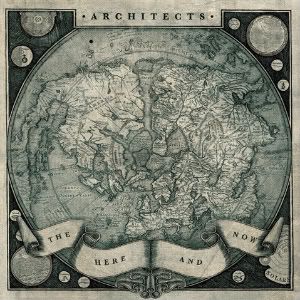 Release Date: January 24th, 2011
Label: Century Media Records
Website: None available
MySpace: www.myspace.com/architectsuk
Rating:


Since the release of 'Hollow Crown' in 2009, Architects have gone from strength to strength, building upon their solid fanbase with, what can be described as, their technical metalcore. 'The Here And Now' is a step away from that sound as they mature and progress their direction into what would now probably be more accurately described as semi-technical post-hardcore.
From front to back it's still as you would expect from them; hard hitting, incredible verses and soaring choruses. Sam Carter's singing has improved dramatically with the vocal lessons he's been taking in the run up to creating the record, and it clearly shows on tracks such as 'Day In, Day Out' and 'Learn To Live'. Whilst still managing to be punishingly heavy, it retains a certain air of elegance in all its sound, with the melodies providing an essence of grace amongst the brutality. A fair few of the band's fans and their ignorant minds may be put off by the lack of ballsy metalcore they're used to, but to those who truly appreciate the band's progressing efforts and evolving talent, there really is nothing this band can't do.
The best tracks are without doubt 'Delete, Rewind' and 'Day In, Day Out', and every second is like musical gold to your ears, as it shows with the high UK chart placing the track had after its first week and it deserves all the rave reviews it's been given. Although, every track could quite easily hold its own against any of the others listed on the insert. The copious amounts of Alexisonfire comparisons being banded about have been seen as a bad thing, but honestly, being compared to arguably one of the best bands in the past decade is far from it, and infact if anything it's a well deserved compliment.
With it only being January I would more often than not just put stuff on the pile of 'mediocre' material to be released this year, however I can see this being amongst the best come the end of the year. Yes, this isn't a joke or overexaggeration, it is actually that good.
Written by Dom Wyatt