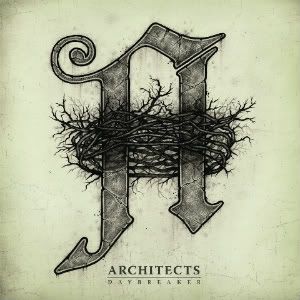 Release Date: May 28th, 2012
Label: Century Media
Website: www.architectsofficial.com
Facebook: www.facebook.com/architectsuk
Twitter: www.twitter.com/architectsuk
Rating:

Despite the huge success brought to Brighton's Architects with their 2011 full-length 'The Here And Now', the album most certainly polarised opinions within their fanbase, critised by the elitists as being far too commercial and radio rock. If you look at the album properly though, it wasn't really that mainstream. It held some rather heavy hitters, just listen to 'Day In Day Out', 'The Blues' and 'Delete, Rewind'. Still, with new effort 'Daybreaker', the band stated they'd be returning to their roots, not feeling comfortable being a band who had tracks that comfortably slotted into daytime radio.
As an overall product, 'Daybreaker' is an album that would stand as both the natural progression between 'The Here And Now' and 2009's 'Hollow Crown', but also as it stands being the follow-up to 'THAN'. Throughout, 'Daybreaker' is an album drenched in desperation to be heard, shines with moments of urgency and emphasised with some minimal classical instrumentation that adds an element of drama to the proceedings.
The swelling of strings that brings in latest single 'Alpha Omega' is one of many examples of this, dragging you in before Tom Searle and Tim Hillier-Brook bring into play some of their fretboard majestry. Sam Carter's vocals have undoubtedly improved since his debut into the band from 2007's 'Ruin'. His cleans through 'Behind The Throne' does the same, just with less intensity and anger upon the surface. Again, you can feel through his voice alone just how passionate Architects are in what they do, clearly undeserving of a lot of the schtick brought upon from an album released just over a year ago.
Lyrically, 'Daybreaker' is an album much further from personal stories and more of a general picture of society, religion and many more of the world's troubles in a snapshot. More strings and pianos inserts become integral parts of a lot of the album's tracks, take a look at 'Truth, Be Told', 'Outsider Heart' and the closing string section in 'Devil's Island' and you can just feel the drama that the band want you to pay strict attention to, perfectly accompanied with the importancy of the message this album delivers. The lyrics and theatric music marry one another, embodying drama throughout.
Bringing in some friends for guest contributions adds an extra snarl to the album, packaged in the form of the British yelps from Oli Sykes (Bring Me The Horizon) in 'Even If You Win, You're Still A Rat' and Drew York's (Stray From The Path) hardcore raspy screeches in 'Outsider Heart', adding an extra crunch to the tracks. Jon Green's (Deez Nuts) offering in 'These Colours Don't Run' however seems so subtle, its necessity is left to be questioned at all. 'Unbeliever' stands as a rather lacklustre close to the record too; the bounce in predecessing track 'Father Of Lead' would bring an end with far more teeth for the record.
Despite loads of undeserved and unnecessary criticism from many of the band's more hard headed fans, still stuck solidy in their 'Hollow Crown' days, 'Daybreaker' acts as a perfect album to please them whilst also pleasing those who were brought to the band's attention through the more clean-cut nature of 'The Here And Now'. The melodicies of that album still remain, yet their hidden behind the far more aggressively frantic instrumentation that gives it all a little more of a kick. Architects are far from over, and this album cements that for any doubters.
Written by Zach Redrup