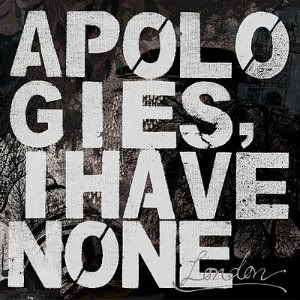 Release Date: March 19th, 2012
Label: Unsigned
Website: www.apologiesihavenone.co.uk
Facebook: www.facebook.com/apologiesihavenone
Twitter: www.twitter.com/apologiesihave0
Rating:


Apologies, I Have None are a four-piece punk-influenced band from London, UK. Their debut ten track album, aptly titled 'London', is a self-released effort from the quintet. After starting out as a two-piece donning acoustic guitars and performing as a folk-punk couplet, two became four and this is where Apologies, I Have None began to create their own niche within the punk rock world.
It became immediately apparent that Apologies, I Have None sound like absolutely nothing around at the moment, especially in regards to the UK music scene. Although impressed by the originality, the inventiveness and the variation that this record holds, it takes around four or five full listens to really begin to enjoy 'London'. With each listen, you will become more and more accustomed to the sound of AIHN, melodic yet often passively aggressive and incitingly emotive.
The faster and almost sanguine tracks, such as the record opener '60 Miles' and 'Still Sitting Tight', contrast perfectly with the fervid track 'Foundations', mainly due to its distinctiveness. It's the case that this track does break up a record that does come across occasionally congruous. Although it's necessary for a record to contain tracks that are comparable, it's the case – especially with a record like 'London' – that it is sometimes difficult to differentiate between certain tracks, but luckily due to the discreteness of AIHN they make this work where others would fall by the wayside.
The succinct darkness in the lyrics that make up 'London', coupled with the jaunty and almost debonair music behind it, is appealing to new listeners especially. In a country rife with political, monetary and social issues, it's no wonder that a raw sounding record like this will appeal especially to any pissed off demographic in the UK at the moment. If you're presented with the opportunity to see this band live, I would definitely do so. It will also be interesting to see what route Apologies, I Have None will take in the UK punk rock scene and where this band will progress to after here.
Written by Luke Davis