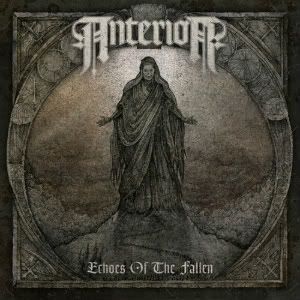 Release Date: September 13th, 2011
Label: Metal Blade Records
Website: None available
MySpace: www.myspace.com/anterior
Rating:

After a four year lull since debut 'This Age Of Silence', Anterior are back with another effort, their second on Metal Blade, this time entitled 'Echoes Of The Fallen'. The Welsh quintet play in a style very similar to Malefice and Sylosis, with more of an influence from melodeath. They're one of these bands that, for whatever reason, hasn't taken off as much as they should have. Despite the 310,000 odd plays on Last.fm, you'll still find them fairly low on the bills at festivals and such. It's unclear why this is, but after the first listen through of 'Echoes…', the answer may be obvious. They just lack the edge, the je ne sais quoi that their contemporaries possess.
You'd be forgiven for thinking that any of these tracks were Trivium bonus tracks, such is the sort of style that they play. While there's no doubt that a lot of this stuff is top class, it just doesn't interest me as much as Malefice's new effort, 'Awaken The Tides'. Maybe it's a personal preference. Maybe if lapping up Matt Heafy's sperm is your thing you'll love the album, but I found that it can be added to a playlist featuring Unearth, for example, and fail to make any sort of impression on it. Every time you get to the Anterior tracks, it's easy to become weary mid-track and skip onto another song by another band.
The pick track from the album, 'Tyranny', was recently featured on Terrorizer's Fear Candy CD, and isn't a half bad song, but as the main song from the album I don't really see how it's gonna set Anterior ahead of their competitors and get them headlining bills rather than being just another support band. 'To Live Not Remain' and 'Of Gods And Men' are good songs, don't get me wrong, it's just that they're so awfully generic. There are no surprises here, you've even got the obligatory quiet song, the title-track in this case.
It's a real shame, because Anterior are obviously top guys who have put a lot of time and effort into creating the next big album, but it's just come off as sounding like a Trivium or All That Remains tribute band in the end. I don't doubt that their live shows will be more interesting than their studio stuff, so maybe 'Echoes…' is just a refresher to add new songs to the setlist.
Written by Martin Savage