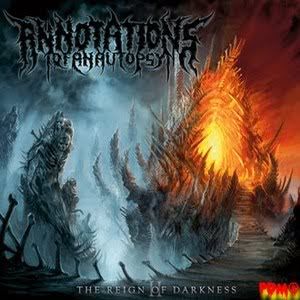 Release Date: January 18th, 2010
Label: Nuclear Blast/Siege Of Amidia
Website: None available
MySpace: www.myspace.com/annotationsofanautopsy
Rating:

Deathcore being my least favourite genre of all time, being presented with Annotations Of An Autopsy I was slightly dubious over how I might react to it, though was pleasantly surprised to find they are in fact now just a death metal band, which is a good thing.
So this album starts out quite promisingly, 'In Snakes I Bathe' being the first 'proper' track of the record; fast, heavy and all around pretty competent musicianship all around. However, the next few tracks really don't change much from this.
'Born Dead' gives us some almost In Flames-like vocals very briefly as some slight touch of variety. The album starts to progress more after 'Emptiness', with more varied speeds, time signatures and a few different screams but apart from that this album doesn't really do anything that feels tremendously different between each song.
The whole album really doesn't do anything that memorable or interesting, it all just kind of fades together for the most part, which is a shame because it had the premise of being a very good album. Although in their defence, being their first effort of creating a death metal album they probably don't want to try too many things at once, with some more confidence I can see future releases being a lot more promising.
Written by Jonathan Andrews