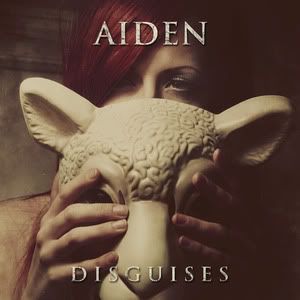 Release Date: March 28th, 2011
Label: Victory Records
Website: www.aiden.org
MySpace: www.myspace.com/aiden
Rating:

Looking and sounding like My Chemical Romance at the theatre, Aiden are back with studio album number five, 'Disguises'. With lead singer WiL Francis having spent a lot of time on his side-project William Control, you'd be correct to assume that his main band may suffer from lack of attention. In some ways, this has happened on 'Disguises'. The lyrics are just as angst-ridden as they were before, but Aiden have decided to progress on some songs, yet not on others. Take for example tracks like 'Horror Queen' and 'Shine', all they did was to create songs heavier than they usually would.
You can tell that Aiden have been working hard, with better vocals and a stronger chemistry between the band. They have somewhat matured with ballad-esque songs, such as 'Radio', with WiL on the piano accompanied by a choir. But they went a bit too far, and in some cases it comes across as pretentious. A good example is 'Hysteria', before and after the song there is a 30 second long quote from Christopher Hitchin's (Anglo-American author) speech. Hitchin's essays, books, speeches and general contributions to literature have spanned over four decades; Aiden's contributions have barely covered one decade. There's a time and place for ground-breaking, powerful speeches and this album isn't one of them.
Another awkwardly placed spoken word quote is on 'Walk Among The Dead', one of better songs from this album. Opening with a great quote from classic horror film The Shining, a foul-mouthed Jack Nicholson sets the tone for a punch-in-the-face of a song, the kind you find on an album from A Day To Remember. Instead, it just opens with a pop-punk vibe guitar riff akin to Sum 41. This song is good, and it's what Aiden do best, but once again they're playing it safe by hardly developing their sound.
This album is kind of short, and you're left thinking "is that it?" after it's just over 30-minute climax. Aiden fans will love and adore every track on this album, and so they should; it's a good album for Aiden. However, for someone who listens to a wide range of music, there's nothing special about this album and will bring very few new fans. There are a few good songs like 'Walk Among The Dead' and 'Malevolent Conversion' that you may want to add to a playlist, but the majority of the album is like old school Aiden, most tracks sounding very much like 'Die Romantic', their signature track from 'Nightmare Anatomy'.
Written by Andy Roberts