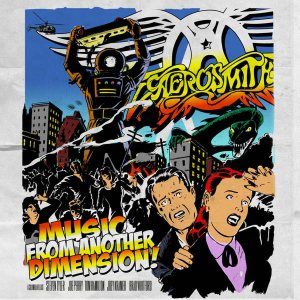 Release Date: November 6th, 2012
Label: Columbia
Website: www.aerosmith.com
Facebook: www.facebook.com/aerosmith
Twitter: www.twitter.com/aerosmith
Rating:


"Rock and roll's most dysfunctional family" are back with an astonishing fifteenth studio album. The bands in question are, of course, Aerosmith. The poster boys of American rock and roll are now seasoned veterans with 40 years experience of making arena-pleasing good old-fashioned rock, in the most traditional sense. 'Music From Another Dimension!' is the band's first offering of entirely new tracks in over a decade. The good news is that after a particularly tricky period throughout the 90s and 00s, it seems that Aerosmith have made an album worth waiting for instead of just another pop-rock record.
'LUV XXX' is the album's opener, and what an opener it is. Steve Tyler opens proceedings with a song about having lots of sex after a bizarre Twilight Zone inspired introduction. However, the actual tune has an energy and that signature groove from Joe Perry that fuse all their tracks with.
For your back-to-basics classic Aerosmith, you need to listen to tracks 'Out Go The Lights' and 'Street Jesus'. The guitar work on both tracks is full of the confidence and swagger that fans have gown to love and that has been filling stadiums since the 70s.
The unsettling 'Closer' is another stand out track. With its pulsing beat, it's a song made for sitting and staring out the window at the rain to whilst thinking of your lost love. A charismatic rock ballad, it slows the tempo of the album to a gentle stroll. But, if you want ballads, the sort where you might actually cry if you were feeling even a little bit emotional, then it's all about 'Another Last Goodbye'. It's essentially rock love ballads 101; you have Tyler crooning about a sexy lady while strings and a piano float around in the background. It's a touching track that highlights Aerosmith and the band's versatility in a stellar form.
The only problem with the album is the amount of tracks. At 15 and over an hour long, it's a whole lot of Aerosmith which will obviously please their die hard fans, but for the casual listener the record becomes stale more than once. Even though two of the ballads are stand out tracks, they're two of four. Everyone loves a good ballad, but no record needs four.
Maybe the band felt bad for not releasing material for so long that they stuffed as much as they could onto 'Music From Another Dimension!', but in doing that they have produced an album that's not as good as it could have been. Maybe next time the band should remember that it should be quality over quantity.
Written by Steven Potter