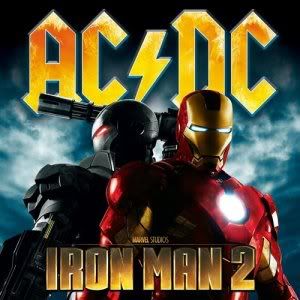 Release Date: April 19th, 2010
Label: Columbia
Website: www.acdc.com
MySpace: www.myspace.com/acdc
Rating:


Compilations annoy me. All they are really is a collections of songs the length of an album, but with none of the thought that you get put into one. If you're a fan of the band in question then you'll probably have the songs already, and if you're not then all you see is a glimpse of their albums with no real depth into what the albums were actually like. With AC/DC, this thought pattern really does not change.
Whilst probably Australia's most well-known and biggest rock band, this album does nothing more than bore. Pretty much every track is a cliché of the heavy metal/hard rock genre, and whilst yes they were probably one of the first bands to do it successfully, I wasn't a teenager in 1970 to be able to get all nostalgic over these songs.
Obviously from both the album title and front cover, all the songs feature on the soundtrack to the Iron Man 2 film, used especially as the producers felt the band's music "fit perfectly with the scenes and style of the film". This may be so, and there's a few big ones you'll instantly recognise whether you're a fan or not, like 'Highway To Hell' and 'Back In Black', but apart from that quite a few of the songs featured on this compilation are quite unknown, such as 'War Machine' and 'Cold Hearted Man'.
Overall this album has more than enough potential to bore and disappoint. If you're a fan, chances are you have all the songs already making this an unnecessary purchase, and if you're not then there's probably a reason why. In effect all you end up doing is either paying for music you already own, or just buying one compilation album to then go out and buy their other releases. Do yourselves and your bank accounts a favour and skip right over this album. Buy an AC/DC studio album if you want to listen to AC/DC.
Written by Joni Andrews