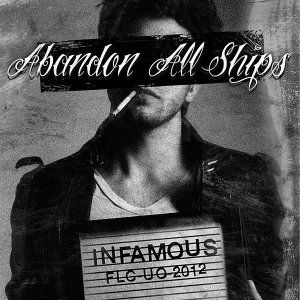 Release Date: July 3rd, 2012
Label: Velocity Records/Rise Records
Website: www.abandonallships.com
Facebook: www.facebook.com/abandonallships
Twitter: www.twitter.com/abandonallships
Rating:

Back in 2010, we thought we'd heard everything from Abandon All Ships; the five piece, hailing from Toronto, delivered a stunning, albeit a very alternative effort with 'Geeving'. Their mix of trance, dance and metal music boarded them onto the ship that bands such as Asking Alexandria and, more famously, The Devil Wears Prada were proudly sailing.
This sound is so characterising to a band that to move away from it would probably put them to the bottom of the pit. So, instead of doing this, Abandon All Ships have raised the bar for their new studio album, 'Infamous'.
Opener 'Good Old Friends' explodes into a volcanic rage of beats; the metal side provided by drummer Chris Taylor, teaming up with the synth melodies from Sebastian Cassisi. It's a brilliant impact on the listener. The impromptu rap from A Game on title-track 'Infamous' is impressive, and that's what the whole album has done – everything is a bit unexpected. None of the tracks ever keep to the same path, they switch from a heavy, turbulent record to a twister of synth and serene vocals from Martin Broda. In contrast, Angelo's brutal and aggressive vocals are what defines the band. Without him, tracks like 'Forever Lonely' could quite easily be mistaken for something that David Guetta would churn out.
Infusing the two genres is smart, it takes skill and a whole lot of talent to do so, the only danger is having all of your album sound repetitive and slightly empty. Abandon All Ships took this challenge by the horns and created a masterpiece. It's the small things; the monologue on the introduction to 'American Holocaust' (yes, it's extremely similar to The Devil Wears Prada's 'Zombie' EP, but hey ho, we all have our idols). It's the ambient introduction of 'August' and the slightly europop feel of 'Less Than Love' that have made Abandon All Ships a creative and original band. Granted they take inspiration from bands that have done it before, but the Canadian bunch slam their own 'stamp' as you will onto 'Infamous', making them contenders to ride high this year.
Written by Sian Hodkin