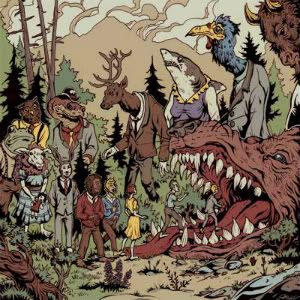 Release Date: October 11th, 2011
Label: Doghouse Records
Website: None available
MySpace: www.myspace.com/alotlikebirds
Rating:

For anyone who is so inclined to those sorts of things, you may remember Kurt Travis from a little band called Dance Gavin Dance. You may also remember that he was unceremoniously dumped out of the band after three years of hard service. Never one to be put down, Travis jumped straight back on the horse and into experimental post-hardcore sextet, A Lot Like Birds. Who, for anyone who has not yet been acquainted with the band, is possibly one of the only bands on the planet stranger than the one he was kicked out of?
To fully appreciate this album you must embrace the strange though. Their chaotic and often schizophrenic song structures will have your head spinning, and Cory Lockwood's vicious vocals will have your ears bleeding (in the best way possible). You are just as likely to find purely melodic, ambient sections on 'Conversation Piece' as you are shuddering heaviness; it's just that sort of album. To compare it to a Dance Gavin Dance record would be almost too simple, and not always true. Compared to ALLB, Dance Gavin Dance's song structures seem almost genre standard.
Each track is different from the one before, so there is little to no chance of you nodding off here. Songs like 'Tantrum (Far From The Tree The Apple Grew Rotten)' have heavier sections that will make you shake in your boots, however, this is relative calm compared to the spazzy mayhem of 'Think Dirty Out Loud'. To try and point out individual songs here would be almost pointless, as each song is as unique as anything you've heard before. If you like jazz, hardcore, post-rock, indie rock or ambient instrumental music, A Lot Like Birds have pretty much got you covered somewhere here. However, for those people who need songs titles as a starting point for listening to an album, 'Sesame Street Is No Place For Me' provides possibly the best example of what this band is really like.
Whether or not you believe A Lot Like Birds are just cheap Dance Gavin Dance rip offs (and I personally think they have a lot more going for them than DGD), there is no denying that this is a fantastic album that will really take you by surprise. I can't see them exploding the post-hardcore/metalcore scene anytime soon, but this is definitely more than enjoyable and fantastic, good old fashioned fun.
Written by Oliver Thompson
Founder & Editor for DEAD PRESS!