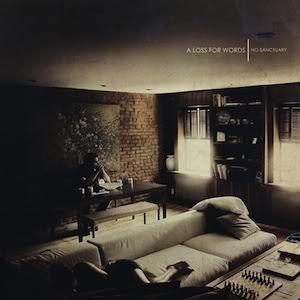 Release Date: October 24th, 2011
Label: Rise Records
Website: None available
MySpace: www.myspace.com/alossforwords
Rating:


Often the case can be that when you hear a brilliant album by one of your favourite bands and it doesn't really do anything to aid their reputation as artists or seem to make them anymore well known, you can often end up feeling quite begrudged. This is the case regarding A Loss For Words' breath-taking 2009 classic, 'The Kids Can't Lose', because as it turns out the kids can lose as AL4W appeared to be no more appreciated on the back of that release. Come the release of last year's mediocre 'Motown Classics', the band seem to have taken some steps in the right direction and are now starting to grow having secured UK tours with Four Year Strong and Set Your Goals, as well as US tours with Dance Gavin Dance, Vanna and The Ghost Inside.
With their fan base growing, AL4W show no sign of slowing down on their sophomore original full-length 'No Sanctuary', and whilst some of the hardcore edge that tinged 'The Kids Can't Lose' has gone, it has been replaced with fantastic melodies, crunching guitars and a more polished overall sound. Despite this, opener 'Honeymoon Eyes' jumps right into things with its punchy guitars, polished vocals and gang shouts; this is pop-punk at its finest, this is A Loss For Words. Track after track, the band churn out huge sing-alongs and sugary sweet melodies like 'The Lost Cause I Used To Be' and 'Pray For Rain'. Despite the sugary sweet upbeat songs spilling out around him, Matt Arsenault shows no signs of cheering up here, as his famously honest lyricism once again shines through on the huge 'Pirouette' and equally massive 'Raining Excuses'.
When the band slow it down on 'Jetsetter', their full fragility and honest manner is thrown into the spotlight, however, Arsenault's impassioned croon makes sure that things go smoothly and even build into a huge finish. In complete contrast to this, the title track and 'JMR' are a chaotic tangle of the band's hardcore roots with their much more radio friendly pop-punk roots, making for a brilliant one-two. Album closer 'Wrightsville Beach' is a perfect point of closure for the album; it's powerful, hooking and more importantly, just a lot of fucking fun and it is somewhat of a treat for the more dedicated followers, as older fans may remember the original acoustic version of the song on the band's acoustic EP, 'Webster Lake', way back in 2008.
Once again, A Loss For Words have managed to produce the perfect representation of the growing pop-punk genre, a true contemporary classic. In a year that has seen some brilliant releases within the genre (notably Man Overboard, Set Your Goals and The Wonder Years), A Loss For Words have topped them all and laid down a gauntlet for any future releases. Let's see what you've got Four Year Strong.
However, despite this album being "off the chain" as it were, it saddens me to think that once again a brilliant album from a brilliant band will fail to make any sort of impact outside of the scene. In spite of this, this is an amazing record and fully deserved of the perfect score, make sure you pick it up.
Written by Oliver Thompson