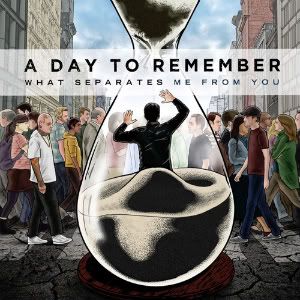 Release Date: November 16th, 2010
Label: Victory Records
Website: www.adtr.com
MySpace: www.myspace.com/adaytoremember
Rating:


Since their sophomore release 'For Those Who Have Heart' way back in 2007, A Day To Remember have been busy winning the hearts and minds of the underground music scene, and follow-up 2009's 'Homesick' propelled the band into the unknown waters of success. With their fourth studio album 'What Separates Me From You', they're set to be propelled to even greater heights with this overall "more mature" record.
Their combination of pop-punk and hardcore is still ever prominent on this more refined album. Rather than trying to hash the two styles together, songs like '2nd Sucks' are allowed to flow instead as a straight-up heavy song. Obviously there's still a crossover between the two genres, as ferocious opener 'Sticks & Bricks' proves that the band don't have to use breakdowns just to sound heavy. Instead, they use them to naturally progress the song and reflect the tone of McKinnon's lyrics, which once again are on top form. The same can't really be said for his vocals however, with his screams at time lacking in tenacity to provide that stamp of formidable power, and his clean vocals fail to ever really pick up. First single 'All I Want' is perhaps the best example of the fragility with his vocals.
It is not just the vocals that fail to kick off; the band's musicianship is often muted and doesn't truly showcase this band at its best. 'It's Complicated' sounds like it could've been taken off any generic pop-punk album released in the past 5 years. Album closer 'If I Leave' ends somewhat with a disappointing anti-climax, with the anticipated breakdown kicking in all but 5 seconds before the song finishes, and 'This Is The House That Doubt Built' lacks the power that would be expected from this dark, fist-pumping ballad.
This said, when they get it down right on this album they are almost unstoppable. 'All Signs Point To Lauderdale' is incredibly catchy and boasts a chorus that's likely to be a live favourite in no time at all, whilst 'Better Off This Way' picks up exactly where 'Homesick' left off, showcasing the band's love for a good hook and chugging riffs. For anyone looking for mosh pit armageddon, look no further than the storming 'You Be Tails, I'll Be Sonic'.
This is by no means a bad album, and it's pretty much what any A Day To Remember fan would have been expecting based upon their backcatalogue. Nevertheless, it still comes as somewhat of a disappointment that the band have arguably watered down their critically acclaimed sound, and for this reason alone it will leave a bittersweet taste in anyone's mouth.
Written by Oliver Thompson
Founder & Editor for DEAD PRESS!