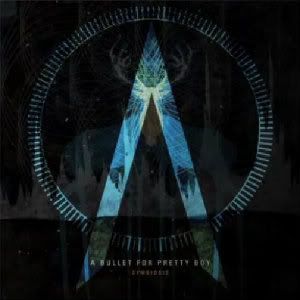 Release Date: July 31st, 2012
Label: Artery Foundation
Website: None available
Facebook: www.facebook.com/abulletforprettyboy
Twitter: www.twitter.com/abfpb
Rating:

With the rather confrontational moniker of A Bullet For Pretty Boy, we could be forgiven for expecting the sound to greet us from the band to be a million miles away from the melody infused metalcore that we get from 'Symbiosis'. Opening with the brutishly atmospheric 'Red Medic', any anticipation of something unique are quickly dashed as we are again served up a series of slap dash breakdowns and tacked on choruses that for all their studio sheen do little to incite a reaction.
The band's full throttle moments do most to hit home, the belligerent swagger of 'White Noise', 'The Grateful Dead' and its unremarkable yet listenable series of chug-a-lug riffs or the brief neck snapper 'Reptilian Tongue', providing a hearty dose of violence. Yet, as with so many outfits nowadays, it's the all to often shoehorned in melodicisms that prove to fatally blight proceedings.
Indeed, listening to tracks such as 'Obstruct', the tangled riffing and elephantine groove are impressive enough, but the undeniably weak clean vocals, with their glossily ambience edge, serve to quash any momentum and ultimately leave us with dead air. The choruses for the most part being neither infectious nor impactful enough to leave any lasting impression.
'Symbiosis' comes across as another lost opportunity. The band clearly have the skills necessary to make some fantastic music, but a perhaps unwillingness to forego genre norms or a simple lack of ambition, sees this album just merging seamlessly with the chasing metalcore pack.
Written by Tony Bliss