LIVE: Reel Big Fish @ Princess Pavilion, Falmouth (06/02/2012)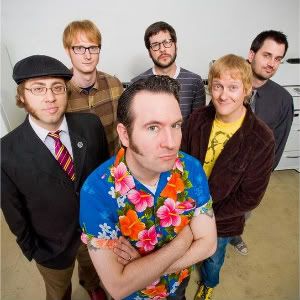 Date: February 6th, 2012
Venue: Princess Pavilion, Falmouth
Support: JB Conspiracy, Orange
Website: www.reel-big-fish.com
Facebook: www.facebook.com/reelbigfish
Twitter: www.twitter.com/reelbigfish
Rating:

Falmouth isn't a place where you'd expect to find one of the biggest ska punk bands in the world, but here they are and apparently they're no less popular in Cornwall than they are anywhere else. The Princess Pavilion stop on the tour is sold out to a multitude of colourful looking and surprisingly attractive punters. Reel Big Fish are the sort of band that makes all the casual fans come out from the woodwork for their one gig of the year so gig etiquette is lost a bit, but that just adds to the atmosphere.


Tags: Orange, Reel Big Fish, The JB Conspiracy
Posted in Live | No Comments »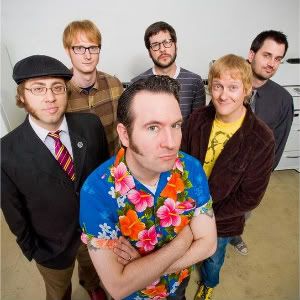 Date: February 2nd, 2012
Venue: Academy 2, Manchester
Support: JB Conspiracy, Orange
Website: www.reel-big-fish.com
Facebook: www.facebook.com/reelbigfish
Twitter: www.twitter.com/reelbigfish
Rating:

It's that time of year again folks: Reel Big Fish are back in town. Leaving behind the warm California sun to brave the harsh British winter yet again, I hope they know that we really appreciate it. They are renowned for bringing over some amazing support bands, such as Big D And The Kids Table and Suburban Legends, so there are a lot of ska-punk fans eager to see who they brought this time around.


Tags: Orange, Reel Big Fish, The JB Conspiracy
Posted in Live | No Comments »
Date: July 30th, 2011
Venue: Moho Live, Manchester
Support: The JB Conspiracy, Chief
Website: www.capdown.net
MySpace: www.myspace.com/capdown
Rating:

One of the few good things to come out of Milton Keynes, Capdown have reunited, and are celebrating their recent reunion with a UK tour, mainly in small intimate venues. Tonight, they are stirring things up in Moho (the venue with the fucking huge staircase in the middle of the room).


Tags: Capdown, Chief, The JB Conspiracy
Posted in Live | No Comments »