June 9th, 2010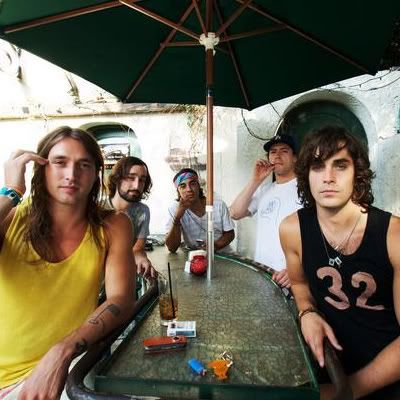 Date: September 24th, 2008
Venue: The Sugarmill, Stoke-on-Trent
Support: Two Door Cinema Club, Nick Harrison
Rating: 5/10
Website: www.igluandhartly.com
MySpace: www.myspace.com/igluandhartly
It's strange how some bands are far from the public eye one minute, and the next they're entering the mainstream music charts and are known across the country. Iglu & Hartly are one upcoming band who have managed to accomplish the feat mentioned above, and have come to Stoke to show that they're something to make a fuss about at The Sugarmill.
Three man band and an accomplice of an Apple Mac for drum beats and extra sounds is the formation of openers Two Door Cinema Club (**), producing a sound of indie with a dash of electronic. Though fairly unknown to the majority of the crowd, they manage to get a few members dancing along to their upbeat indie offerings.
Nick Harrison (*) on the other hand isn't quite as much of a pleasure to watch perform. Though his ska/reggae-like take on indie today is one that doesn't come across you often, Nick Harrison just seems to just come onstage and do his thing rather than appear like he enjoys it. The mainly static approach isn't one that is a winner for attracting new fans, or in some cases maintaining current ones.
A crowd consisting mainly of teenage girls surges towards the stage like they were giving away cash, clearly showing how the popularity of Iglu & Hartly (***) has increased in the past few months. Right from the start, the band are sweating out energy in their stage presence, making good use of the stage room that they have available, and even venturing out into the crowd on one or two occasions. The band's blend of pop, rap, indie, and even punk is a positive one, and has the audience jumping all night long, resulting in many sweaty fans as a consequence. When their latest single 'In This City' is finally played, the crowd size at the front seems to double in size, as people just want to join in on the fun this band are generating. Iglu & Hartly don't seem to mind this one bit, and even allow over a dozen people on stage to dance and have fun alongside them for their closing song of the night.
Iglu & Hartly may well be a new name on the scene, but with the turnout and reaction of this show, they might even become a household name in a few short years. They were definitely welcomed and appreciated "in this city"… and surely many others out there.
Written by Zach Redrup